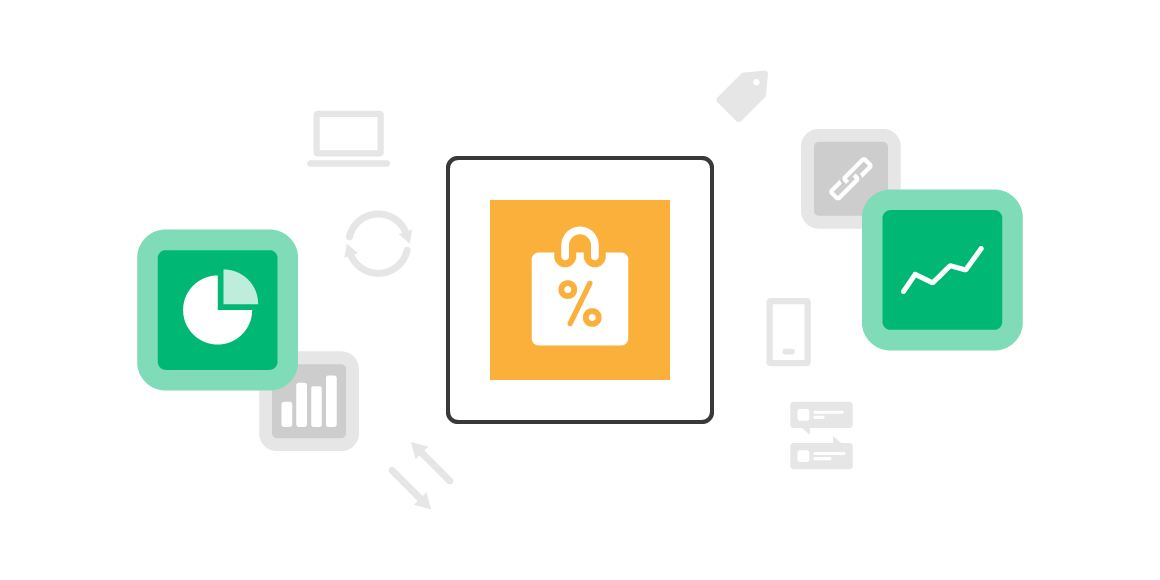 Strengthen Your Brand Identity through Affiliate Marketing
Explore the interconnectedness of branding and affiliate marketing in our latest blog. Trackdesk reviews current strategies to ensure your brand growth mirrors your interests and supports the activities of your affiliates.
Trackdesk Team
12/6/2022
Build Your Identity with Affiliates
Affiliate marketing leverages audience engagement for an eCommerce business to sell products or services. A successful affiliate marketing strategy involves reliable communication from the merchant to the affiliate and the consumers.
Affiliate marketing spans multiple marketing channels, reaching audiences with varying interest levels in the promoted product. It is an excellent choice of advertising, especially for businesses lacking the resources to spend on extensive advertising campaigns. You can think of your brand affiliates as an extension of your marketing team.
Incorporating affiliate marketing significantly boosts the engagement and reach of any eCommerce business. However, this approach is not for the unmotivated and faint of heart. Running a successful affiliate marketing campaign means sustaining and growing a consistent brand across interconnected marketing channels online.
Here, we discuss the relations between brand identity and brand growth of an e-Commerce business with affiliate marketing, the do's and don'ts in affiliate marketing, and tips to keep in mind to scale your business through empowered affiliates and optimized marketing.
Why is Branding Important?
A brand is what sets your business apart from competitors. A brand is representative of your business goals, vision, and mission for offering such products and services to your target audience.
The average person is exposed to 4,000-10,000 ads per day. The state of digital marketing today bombards users with countless graphics advertising products, from health and wellness to pet care and services such as referrals for freelance gigs.
Yet, marketing specialists highlighted that a user only recalls a hundred ads. Advertisers work hard to make content that is eye-catching, relevant, and, most importantly, interesting enough for customers to talk about the product and place a purchase.
An estimated 26 million e-Commerce sites are up and running daily, vying for curious customers' attention. Differentiate your business from competitors with a compelling brand that captures your ideals and reaches your target audience.
Branding in affiliate marketing is all the more important to establish trust and loyalty. As your affiliates engage in discussion across multiple marketing channels, a consistent brand nurtures credibility among new and existing customers.
Poor branding leads to subpar campaign performance, a sense of distrust from customers, and low sales.
How to Set Up a Brand for Affiliate Marketing
Now that your e-Commerce website is live, you will want to spread the word about your latest sales offers. Affiliate marketing is a cost-effective approach to promoting products and raising conversion rates. So, what should you do to establish your e-Commerce business brand through affiliate marketing?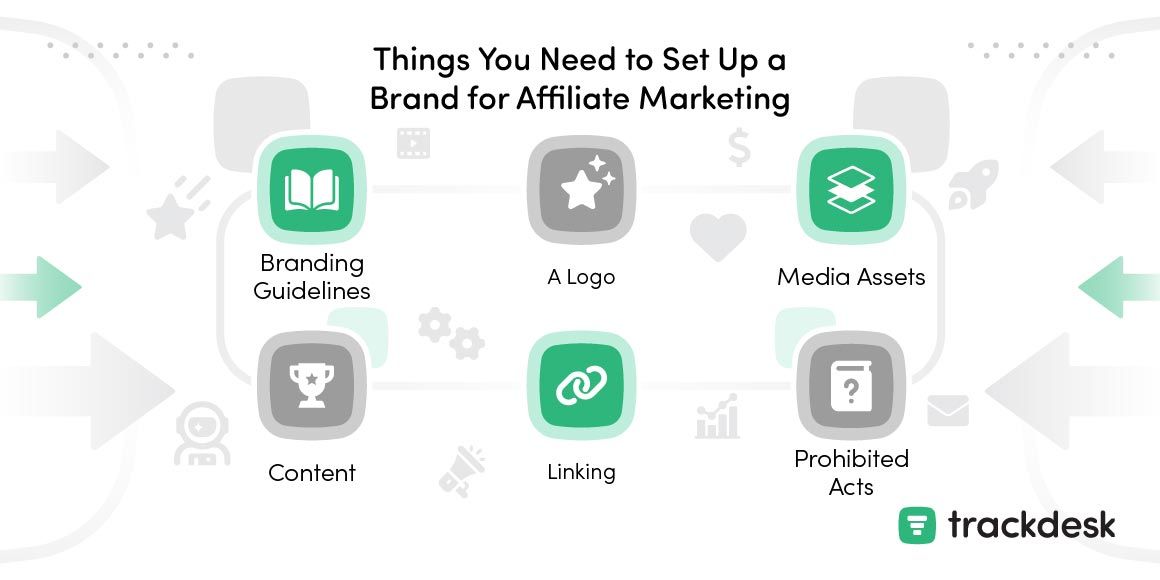 Branding Guidelines to Consider for Consistent Affiliate Marketing Programs
First, set guidelines that every affiliate enrolled in the affiliate program will follow and strictly adhere to.
Logo Use
Provide clear examples of how the official brand logo can be used and formatted in promoting products. Spacing, placement, and corresponding logo versions for different content platforms must be indicated in detail to prevent unauthorized logo use.
Media Assets
Assets include photos, videos, audio clips, and animations used in promotional content such as email and website banners. You may provide affiliates access to a licensed content library or allow them to create their media. Set rules for the asset type, placement, and sizing. Additionally, enforce content approval before affiliates publish the content to ensure no policies are violated.
Content
Typography is specific for every business brand; thus, the affiliate program shall follow typography and formatting guidelines. Specify which type is used for every posting (discount promos, product overview, etc.) across marketing channels (social networks, email, static web display, etc.).
Linking
Affiliates promote product links on blog posts, social media, and videos. Determine a linking strategy for easy traffic management.
Prohibited Acts
Set limits on what an affiliate can do to promote your products. Make a list of unacceptable activities, such as promoting product offers without prior approval or using unauthorized third-party applications to boost keywords illegally.
How to Promote E-Commerce Product Offers
Any e-Commerce business can start an affiliate marketing program to generate more leads, increase brand awareness, and grow sales. Keep your brand identity in mind as you scale your affiliate marketing strategy.
Find and manage suitable brand affiliates.
Affiliates will be the brand ambassadors of your business; thus, it is crucial to connect with affiliates knowledgeable in your business niche. For instance, a company selling home café essentials like coffee makers, coffee beans, and more will want to work with an affiliate passionate about coffee, coffee brews, and equipment.
The ideal affiliate shares the same goals and vision with the business, enabling them to provide effective feedback to influence their audience into checking out the products on offer. Capable affiliates introduce customers to the brand with persuasive content that lives up to the quality of the product.
The power of influencer affiliate marketing
Influencer marketing is a powerful marketing tactic for all sizes and types of businesses. The similarity of influencer marketing with affiliate marketing led to the rise of influencer affiliate marketing. An influencer's established audience and reputation give them the competitive advantage to close more sales and increase brand visibility.
Influencer affiliates are among the most successful partners to elevate your affiliate marketing program. Consider tapping influencers in your business niche to promote your brand to bigger audiences.
Set generous commissions.
Every affiliate aspires to receive high commissions. Considerable commissions motivate affiliates to work harder in creating content and raising sales.
Determining the right commission can take some time. Review aggregated data on similar existing affiliate programs to guide you in setting reasonable rates. You can also determine how affiliates will be paid. Below are the most common commission structures that affiliate programs of all sizes and verticals adopt:
Cost per action (CPA): Affiliates earn a commission for every successful customer referral. This involves filling up signup forms, registering for a subscription service, or buying a product.
Revenue sharing (RevShare): Affiliates earn their share based on a customer's total checkout. Most e-Commerce businesses adopt this payment method.
Cost per click (CPC): Affiliates earn a commission based on the foot traffic and click-through rates they generate across landing pages and email marketing campaigns. This is ideal for businesses seeking to raise web traffic and build domain authority.
Offer high-quality, sensational products.
Bringing value to customers with high-quality products nurtures customer satisfaction and brand loyalty. Encourage recurring sales by offering exclusive sales offers. Take advantage of a buyer's FOMO (fear of missing out) with time-limited discounts for premium product collections.
Provide discount offers.
Discounts always attract more customers. Provide affiliates with special discount vouchers for customers to avail for a given time.
Keep an eye out for fraudulent behaviour.
The reputation of any e-Commerce affiliate program can go downhill instantly with poor fraud protection and malicious attacks. Enable fraud detection to protect affiliate links from spam clicks and sudden traffic surges. Hold affiliates accountable for going against affiliate marketing guidelines and illegally manipulating web traffic.
Preserve customer trust with data privacy and security.
A good affiliate program upholds a customer's data privacy and security rights. Conform to multiple online privacy initiatives to protect customers from the internet's prying eyes. Most affiliate marketing networks will indicate their security regulations and compliance standards; keep a look out for initiatives such as the General Data Protection Regulation and SOC 2 Compliance and Certification.
Fine-tune affiliate marketing campaigns.
No affiliate marketing strategy starts perfectly. With that in mind, keeping a close eye on the marketing campaign's progress is necessary. Take note of significant changes in results and stay on top of industry insights to adjust campaign strategy whenever necessary.
What is Brand Trust, and Why is It Important to Business Success?
Brand trust refers to the confidence customers have in the products or services offered by a business. Trust in the brand deepens as customer expectations are met or exceeded.
Gaining customers' trust is a challenge that new business owners must overcome. Fortunately, affiliate marketing allows established content creators or influencers to become brand affiliates, promoting the brand to their audiences. With known personalities marketing for the business, prospective customers are more likely to check out the available offers.
Brand trust is crucial to maintaining a growing customer base. Research shows that 65% of customers drop a business when a business does not keep its promises or offer quality services.
Brand trust is also affected by the vision and advocacies of a business. Businesses that align their goals with their products, customer experience, and business plans encourage more customers to engage with the brand.
For affiliate marketing, brand affiliates also play a role in establishing brand trust among prospective customers.
Boost Affiliate Marketing Brand Visibility with SEO
Affiliate marketing is just one piece of the complex puzzle of digital marketing. Make the most of your customer engagement and increase lead generation through search engine optimization (SEO). An affiliate marketing campaign with good SEO ranks highly among search results, uses relevant keywords for optimal visibility, and backlinks to relevant content.
By boosting your affiliate program's SEO strategy, your e-Commerce business website ranking also improves. Use the target audience's commonly used keywords to direct their searches to your content.
Affiliate marketing and management software comes with various content optimization tools and functions. Leverage these technologies to improve SEO with keyword searches or keep track of user activity on landing pages and your business website.
Branding your e-Commerce business through affiliate marketing revolves around consistently upholding the business's vision and mission. As an affiliate program owner, you want to connect with reputable brand affiliates that can promote your products and upsell your brand image. Differentiate yourself from other players in the market with engaging promotions, a strong sense of brand trust, and high-quality products.
Share this article: