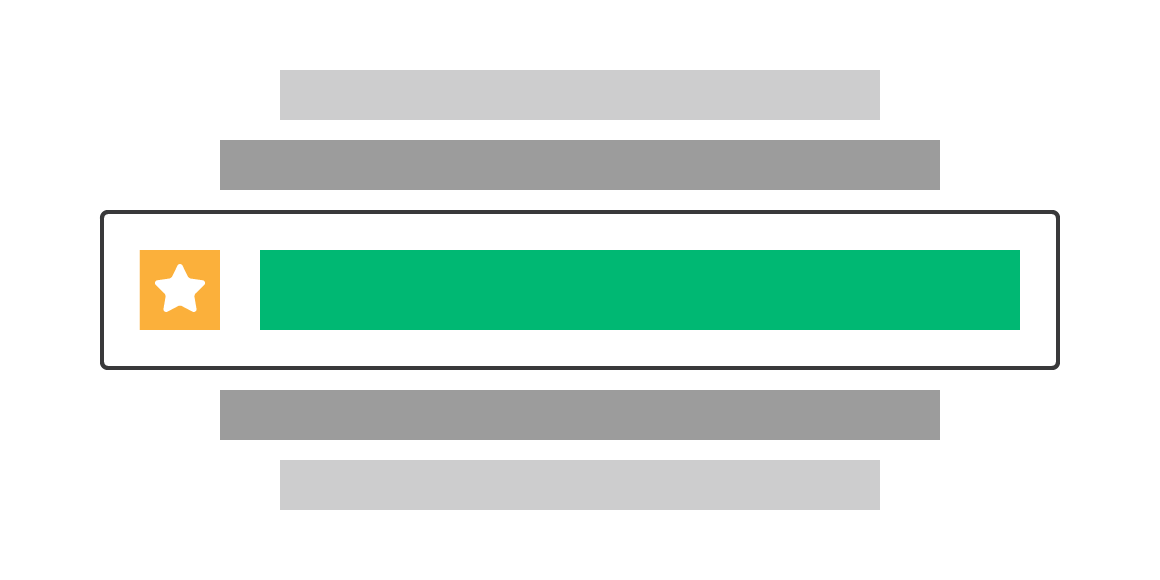 How To Promote Your Affiliate Program: 8 Proven Tactics for 2023
Affiliate marketing can be a lucrative revenue stream Here's the guide to affiliate program promotion you need to get you on the right path.
Trackdesk Team
1/13/2023
Affiliate marketing is paving its path to success and surpassing traditional email marketing, social commerce, and display advertising. For those not entirely familiar with it, affiliate marketing uses affiliates for marketing someone's products and earning a commission.
Affiliate marketing is currently the most widely used advertising method; however, it requires effort to make your program successful.
The key is finding high-quality affiliates and a suitable channel and using them to successfully promote your brand's affiliate program products and services.
Recognized as performance-based marketing, famous brands utilize affiliate marketing to promote their services through individual affiliates. These affiliates promote brands among different target groups and monetize their efforts. In turn, brands reach more target groups and significantly increase their sales.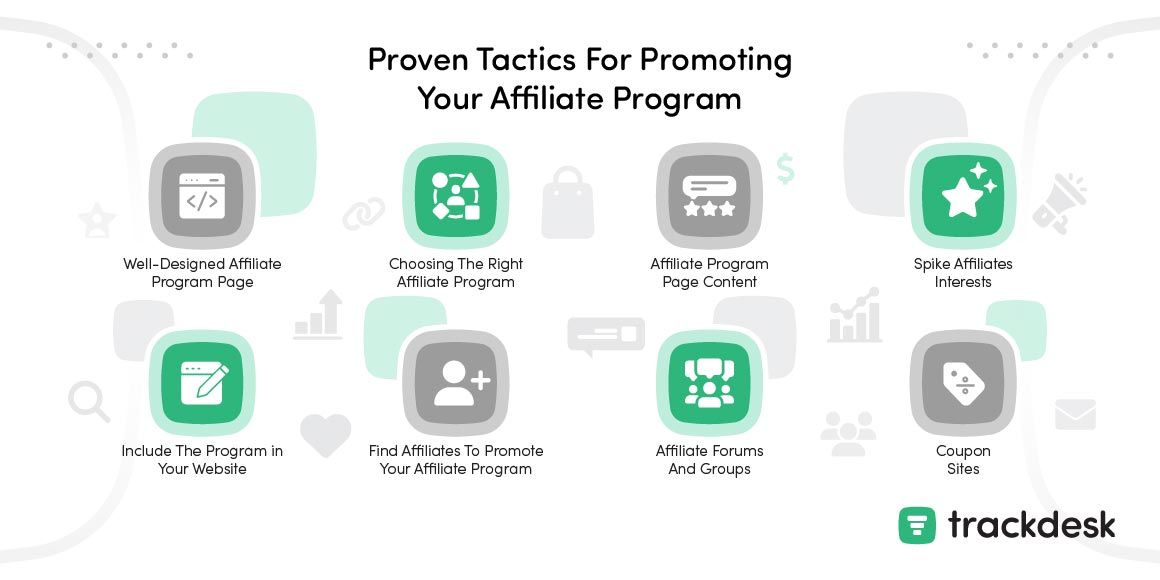 Proven Tactics For Promoting an Affiliate Program
Nowadays, companies are turning more towards influencers and bloggers to make the advertising rather than spending loads of money on expensive ad campaigns. Well, at least those following trends are.
Purchasing an affiliate tracking software and building an affiliate program page are the first steps toward using affiliate marketing to increase sales of products. Establishing an affiliate network, choosing the proper social media channels, and partnering with other brands are just a few tactics.
Whatever the choice of promotion, brand owners need to find the right one that works best for them and their business.
Build a Well-Designed Affiliate Program Page
Building an affiliate program page needs careful consideration concerning content and layout. It should include content about the program and what affiliates can expect if they decide to join you. If unsure what the page content should include, consult an affiliate marketing guide or read on to learn more.
Choosing The Right Affiliate Program
Before choosing your affiliate program, you need to know how to choose the right one for you. Start by selecting a niche that will keep competition out of the way and allow you to build a solid network of affiliates and clients. Keep the niche as narrow as possible to earn the trust of your audience.
Do some research on affiliate programs and get acquainted with terms, conditions, payouts, commission rates, product selection, etc. Learn more about per-click, per-lead, and per-sale payments and which best suits you.
The right domain name for your affiliate program page is the key to a successful business. Make it short, simple, and catchy.
Affiliate Program Page Content
Fill your program page with niche-specific content to attract traffic and conversions. This means adding call-to-actions in articles to introduce an affiliate program. Long-form articles are clearing the path and becoming more effective and share-worthy than regular posts while generating more leads. Use the article length to elaborate in-depth, and add links to affiliated products.
Add product reviews and comparisons, reader testimonials, or any other content that your audience often searches for online.
Spike Affiliates Interests
There are different ways to attract prospective affiliates and get them interested in marketing your products and services. Have page content that clearly explains the affiliate program, providing clear and precise terms and conditions. This enables affiliates to be clear on what to expect if they become a part of your team.
Provide a visible link to an affiliate application form on your page and see it put to good use. You don't want potential affiliates to waste time figuring out how to sign up and lose interest. Commission rates are essential to affiliates, so be very clear on what you are offering. How you choose to pay affiliates is up to you because commissions differ from one brand to another.
Make sure potential affiliates have all the information they need in one place without having to do a lot of clicking around. This portrays you and your business as serious and professional.
Include The Program in Other Places on Your Website
Promoting an affiliate program may be done in many ways imaginable. Try incorporating an affiliate program link in the top, bottom, or both menus. Another possibility is by doing blog posts. Do some blogs of your own and insert a link to increase traffic to the program.
Use pages with high traffic to spike interest in the affiliate program. Some like creating a mascot image to associate with the program, while others post the program in various forums and groups. Go with whichever works for you best.
Finding Affiliates To Promote Your Affiliate Program
Finding the right affiliates to promote your affiliate program may seem easy at first, but it does take a lot of time and effort. Don't look for affiliates before you have a clear marketing strategy and vision of where you see your brand going.
Affiliates like to be clear on what to expect from an affiliate program and what they'll get as a benefit. You'll want to be on the good side of affiliates if you wish to have them fight for a spot on your affiliate program.
Remember, you need them as much as they need you, maybe even more. Therefore offer competitive commissions and profitable stimulus. You can reach out to an affiliate recruiting agency, freelance platforms, niche blogs, forums, and more to recruit your affiliates.
Affiliate Forums And Groups
Affiliate groups and forums are where to be if you want to lure and recruit your affiliates. This is where affiliates like to hang out to exchange tips, secrets, and possible business opportunities. And trust us, they do talk!
Affiliates like to exchange experience of working with brands, and it is the only way for them to learn if an affiliate program is worth signing up for. That is how they move up the ladder and become successful.
Following all the guidelines and policies set by the administrators of the groups and forums, post the affiliate program in a visible spot relevant to your niche and watch those affiliate lines forming right outside your door.
Coupon Sites
You might be surprised how popular coupons still are. You can reach out to many coupon websites and find a mutually agreeable way to promote your affiliate program. Since we are talking about coupon sites, take note that you will have to offer a customer discount.
Handpick Your Affiliates
What is the best way to spread the word about your affiliate program and find high-qualifying affiliates? Reach out to niche bloggers and influencers or use industry experts. Share your affiliate program with social media personalities or content creators.
Identify and handpick the affiliate candidates you share an audience with and reach out to them directly. Make them feel valued for their previous work and the benefits they could gain from becoming your affiliate.
Niche Bloggers
Niche bloggers are people with a passion for a particular field. If they are good at offering readers helpful content on the subject, the blog attracts a like-minded audience that may be your potential clients. Use this to your advantage and get those niche bloggers to become a part of your team.
Influencers
Influencers are trendy among the young population, and brands often use them. Your sales might go through the roof by targeting the influencer's followers. Keep in mind that some of these influencers charge astronomical figures, but you will find some that fit your budget if you do your research.
Build an Affiliate Network
It may seem not easy at first, but things run smoothly once you get those first affiliates on your team. Remember that getting affiliates to work for you might be the easiest job. Keeping them is harder.
Be upfront, honest, and open with them; make sure they know everything there is to know. Follow through on their progress, reward them or scold them. Ask them to get other affiliates to join the program and offer incentives.
The affiliates you choose have an audience that trusts them, which didn't happen overnight. Keep in mind that their audiences are your potential clients. What can be better than getting more business with minimum effort?
Creating a network of hardworking and loyal affiliates is not impossible, but only if you value their work and establish solid and fair rules for cooperation.
Improve Your SEO
It's a never-ending struggle to get your brand to appear in the top search results. There is nothing more satisfying than seeing your brand's name above that of competitors. It is doable, but you need to increase organic traffic by strategically improving your SEO.
The best way to make sure affiliates can easily find your program is to optimize it by inserting niche keywords and adding an affiliate program after the keyword. Other ways to achieve these include URLs, links, image file names, etc.
Even increasing the site speed is a valuable option. Improved SEO doesn't affect affiliate sales but will impact the audience. Word-of-mouth is a great marketing strategy, and you'll just be using a more modern version of it.
Before doing all this, update your affiliate program page with all the relevant information that might interest them. Creating new content is a demanding process, but sometimes, all that is needed is just freshening up and repurposing the old content to make it fit for various platforms.
The Power of Reviews
Many disregard reviews, but you'd be surprised by the power reviews have. No customer purchases a product before reading the online reviews. There is nothing wrong with freshening up old reviews or writing new ones. Establishing and maintaining relationships is what affiliate marketing is all about. Reviews must be accurate and honest without falsely praising a product that isn't so good.
Lean on reviews of happy customers to increase the possibility of an affiliate sale. Reach out to third-party review sites where customers tend to look to formulate an opinion on a product. External reviews do differ from one industry to the next but can make or break the company's image.
Be Open to Promotion From Multiple Sources
Don't limit yourself to just one type of affiliate promotion. Influencers and coupons may be doing the job, but why not test several marketing strategies before deciding which one works the best for your brand.
There are many ways you can promote your affiliate program; you need to find the right one. Experiment with coupons, influencers, email marketing, and product review blogs. You may even try niche-related webinars or YouTube videos.
Social media channels are severe players in the marketing world. All media platforms are swamped with audiences looking for the latest scoop in the niche. Create strong content and match it with imagery to spike the interest of potential affiliates to click on the link and learn more about your affiliate program. Use the bio of your affiliate page to add a few words announcing the affiliate program and drop a link.
Videos are also a great way to promote affiliate programs and share them with other platforms. Or do a live broadcast to launch the program. Be aware of the target group you wish to attract to your affiliate program, and choose your marketing medium wisely. Coupons may be drawing the elderly population, but Millenials are hooked on YouTubers and the likes of them.
Partner Up With Related Brands
Partnering up with others can enlarge the audience you reach out to on your own. Reach out to non-competing yet relevant brands with which you share an audience, or ask someone with an affiliate program to do a fair exchange and promote each other.
You may also want to look into channel partnership to widen product distribution and, in turn, compensate the partner with commission or another agreed form of reward. How about an affiliate marketing partnership? Two brands are teaming up in a mutually beneficial collaboration to reach a wider audience and increase brand awareness. Two for the price of one!
Affiliate Tracking Software
It's challenging to keep track of business once you've joined numerous affiliate platforms. Tracking the whole process, the affiliate earnings, and revenue opportunities, and at the same time trying to measure the effectiveness of your marketing, is an exhausting job.
Keep organized and have a clear view of all the puzzle pieces. That's of utmost importance, and investing in an affiliate tracking software comes in handy. These software solutions are also helpful for promoting your products, creating an affiliate program, or simply recruiting your affiliates.
How does this software work? The affiliate tracking software assigns each affiliate a unique URL identifier based on the received affiliate link. The sale is then tracked through the cookie set by the link on the customer's computer. Once the customer completes the deal on the site, the software has the required information for awarding commission.
Be wise and use the affiliate tracking software to create and define the marketing strategy to put your affiliate page on the map.
Build a Solid Affiliate Program
Finding the right recipe by using a few promotional affiliate program tactics may take time, but you can achieve it if you have the right strategy. The important thing is to have good quality products that your affiliates will be happy to promote.
There are a lot of scam artists luring affiliates and convincing them they'll get rich while doing nothing. Don't be one of them! Ensure those promoting your affiliate program understand that they are part of a severe affiliate network. Have them worry about promoting your products and not wonder if they have teamed up with a scam artist.
A well-thought-out affiliate program can turn into a very profitable and successful business. With the rise of affiliate marketing, many companies nowadays rely on affiliate programs to increase brand recognition, achieve higher sales, and attract more and more customers.
It may be difficult to find high-quality affiliates at first, but once you have created a solid network of brand ambassadors, make sure you keep them. This means maintaining your brand integrity on a high level and even improving it. Promoting your affiliate program may bring you better brand recognition and higher sales, but it may also be a foundation for long and fruitful partnerships.
Share this article: