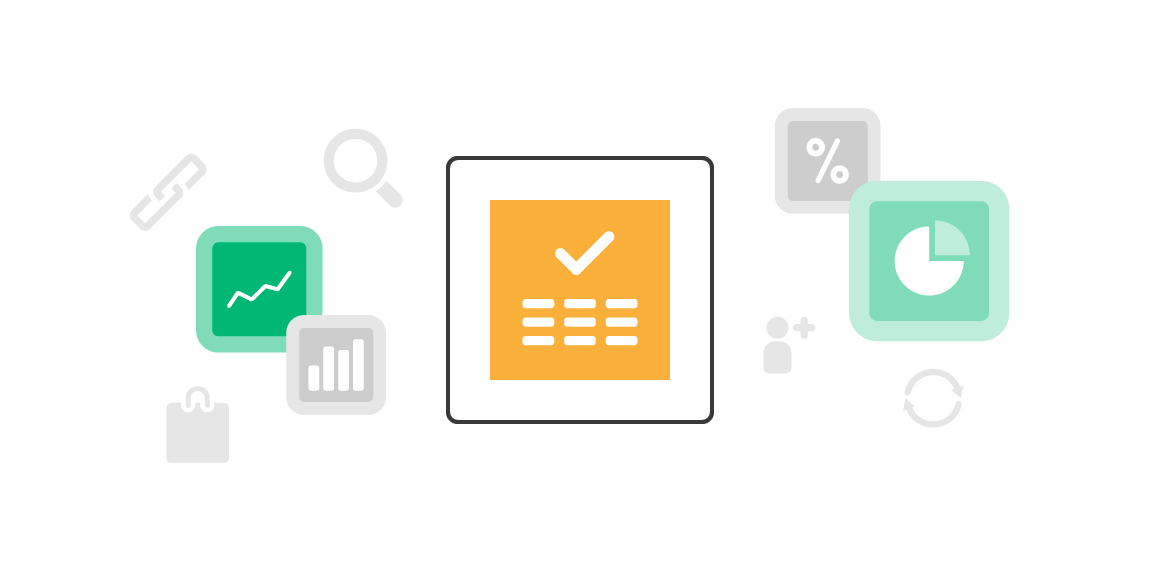 9 Most Essential Affiliate Marketing KPIs You Should Be Tracking
This article tries to provide a guideline for measuring the success of an affiliate program by introducing the most essential affiliate marketing KPIs.
Trackdesk Team
3/8/2023
Affiliate Marketing KPIs (Key Percentage Indicators) can be the ultimate step toward your business goals. Anyone familiar with the KPIs knows their practicality as they come in handy when big plans like budget years, new partnerships, or the decision-making process in general.
For businesses facing them for the first time, KPIs are performance measurements set to measure the road toward a specific affiliate goal. However, even if they are measurements, they're not the same as metrics.
Each KPI has a different impact on a business, and there are several notes everyone must know before implementing them in their strategies. Therefore, here's a handy guide to affiliate marketing with the top 9 KPIs - all broken down in detail.
What are Key Performace Indicators?
Key Performance Indicators, or KPIs, are performance measurements for a specific affiliate marketing goal or objective. It's pointless to start affiliatemarketing without knowing about KPIs. Essentially, KPIs set the goals towards which other companies' objectives can aim and offer the latest reports on performance that significantly improve the decision-making process.
Generally, KPIs provide every sector of the company with real-time insights on a task. Each sector's performance becomes more transparent and easier to handle with it. On the other hand, managers can pull a better strategy to overcome an obstacle or get steps closer to the goal. Various types of affiliate tracking software deliver high-end reports of the given task.
While KPIs are metrics-oriented, they're not necessarily the same as metrics. So, a KPI is the main objective you set in the company that you should keep track of or monitor background activities like reaching a set number of clicks on your site.
Metrics measure your daily business performance that strives toward the KPIs instead of the long-term. Therefore, such measurements may be monthly page visits, time spent on the page, etc. They're not the most important, but they are relevant to tracking the overall company performance.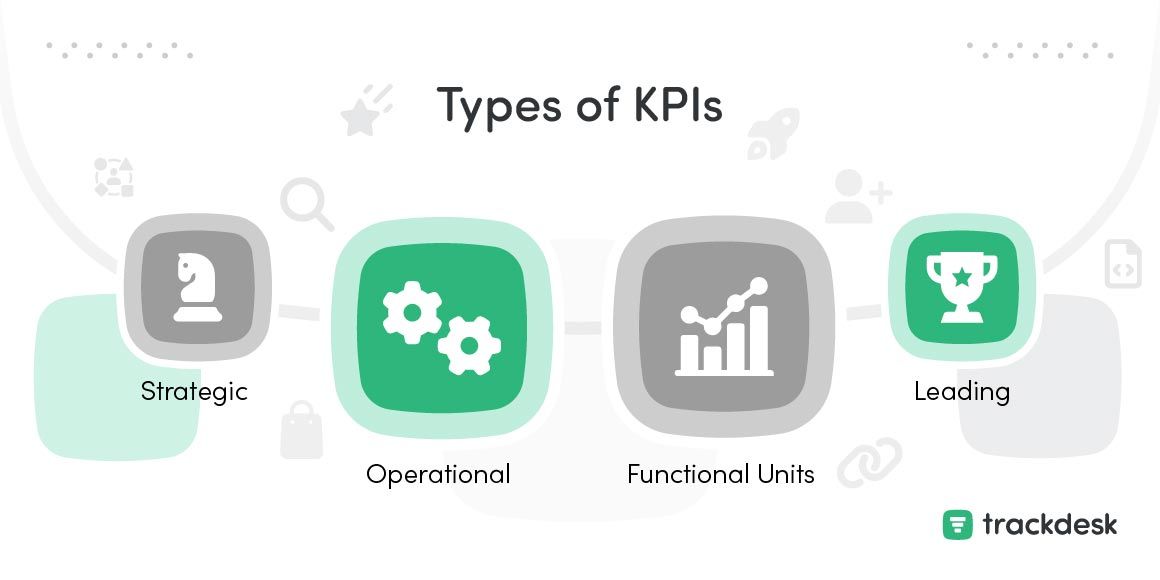 Why Do Companies Set KPIs in Affiliate Marketing?
The main idea of implementing the KPIs is to measure different performances. Yet, different types of KPIs measure the progress toward the set goal, and by reviewing them, you'll get a clearer perspective on why companies enforce them.
Strategic KPIs - These KPIs track the performance of the organizational goals. Experts advise using at least two strategic KPIs to monitor the organization in set intervals of the day in terms of the revenue, market, share, or investments.
Operational KPIs - These, too, track the organization's performance only in the short set time of the day. For example, the organizational KPIs may track the sales in a given area or the CPA (Costs Per Acquisition).
Functional Units KPIs: These are the functional performance indicators linked with a company's particular sector. They measure the performance of the corresponding sector only, like finances or the IT sector, for example. The IT sector measures the average uptime or the duration of the downtime. The finances come in handy as they keep track of any financial input and output, significantly reducing money leaks.
Leading and Lagging KPIs: These affiliate marketing KPIs are entirely different, but they go hand in hand. For example, the leading KPIs foresee the outcomes, and the lagging KPIs monitor the occurred results. They go hand in hand, and companies use them because both KPIs keep track of the most relevant information circulation within the company.
Having a clear sight of what's going on within the company is crucial. Focusing on the set objective or goals is imperative, and thanks to the KPIs and the affiliate marketing software we have today, these goals are met faster than before.
Start with These 9 KPIs
There are several specific KPIs for affiliate marketing, both in terms of operations and organization, you'd want to have implemented in your business to get closer to your goals.
Primary Affiliate Contributions
You must initially detect the most valuable affiliates that drive your traffic to have a successful business year. Also, you have to preserve them as they put the most value on your company. For that reason, you need an operational affiliate marketing KPI.
The KPI tracker for affiliate marketing is added by using the UTM code. You can use a UTM template or scheme designed for your program or page. Once done, make further adjustments until you create a separate URL for each affiliate.
Having insights from every URL for each affiliate individually will help you gain more control over the affiliate marketing process and bring healthier decisions to the affiliate. Likewise, you can use the URLs to your advantage to increase revenue.
Lastly, separate URLs can help you detect the responsible affiliates for traffic drop-down. That way, you'll identify the core of the issue and be able to sanitize the issue before it becomes fatal. Or, in the worst case, if the affiliates harm your traffic, you can terminate the unproductive affiliate marketing links.
Click Traffic
The click traffic refers to the number of clicks gathered on a page or program through a set time. Also, this is one of the fundamental KPIs for affiliate marketing that displays the progress or regress on the page or program.
Of course, with the Click Traffic KPI, you can compare the last year's and this year's progress. And these comparisons are imperative to achieving your overall goals.
Moreover, managers can take several benefits plus. For example, managers can use the KPIs to identify the most useful sites that contribute to driving more traffic. Once you learn the fuel to your page or platform, you'd get a better perspective on your overall development.
Direct and Indirect Affiliate Marketing
When you make an agreement with new affiliates, it's essential to track the impact on your program or page during the first 3-6 months. Sometimes it might need a few readjustments until it fits your program's needs and requirements to stimulate the traffic.
However, you may often get indirect affiliate marketing or traffic boosts from other pages or links you haven't any contract with. For example, there may be content creators that advertise your products somewhere and indirectly send tons of referral traffic, hence a jump in sales.
Constantly monitoring these traffic boosters can simplify the decision-making process regardless of whether it comes from direct or indirect sources. Managers and analysts have a clearer perspective on the obstacles coming soon.
On the other hand, these can be a stepping stone in your business. Such affiliates open new doors that can give you insights into the popularity of your product. They can help you identify the content creators and publishers that promote your brand. That way, you can track the growth of your business and calculate your next steps.
Two crucial factors impact this type of affiliate marketing KPIs in terms of the manner of campaigning the product. Therefore, if your product adds value to your business, you can see the growth with this KPI.
Conversion Rate
Conversion Rates are a no-brainer in affiliate marketing KPIs.
Conversion rate refers to the overall number of conversions stemming from the number of clicks on your program. The conversion speed gives you an average measure of how well you convert the clicks into sales and revenue. Apart from the average rate, it tells you how many clicks are needed to drive one conversion.
This information will help you predict the progress when achieving the goals. Also, monitoring the conversion after launching a new promotion or ad is crucial as it will reflect the campaign productivity. Later, these insights help you understand how well the audience or your potential customers accept it.
Monitoring the irregularities with this KPI is also super important because the sooner you detect them, the less the impact on the progress will be.
Engaging More New Customers
An essential aspect of affiliate marketing is tracking the activity of the program or page. You must monitor if the affiliate attracts new customers to your business or program.
The significance of this KPI is that if the program isn't attracting a new audience, it means you're wasting too much time on ineffective affiliate marketing. If you're just in the business of affiliate marketing, then you may not know that there are affiliates that hook new customers after years of activation while others after only a few months.
Therefore, you must constantly monitor these affiliate KPIs, as their fluctuating nature can impact your steps to affiliate marketing success.
Tracking Average Order Value
Another important affiliate marketing KPI is tracking the conversion of a single affiliate. This KPI is relevant because it shows the average amount spent before a customer buys a product from you, and the average order value refers to the time spent on your site before purchasing something.
But, monitoring this affiliate marketing KPI for total conversions - won't do justice to your program. Even if the total sales are far from the previous year, you will get more revenue if your average order value is higher.
Additionally, affiliate partners are also crucial for driving more revenues, even if they're not set on full mode. The best thing about affiliate marketing is that it leads to many conversions. Also, it may attract high-value customers or customers who make spend more money than regular customers.
Multiple Affiliate Categories Performance
Many businesses arrange multiple categories of affiliates to gather more audiences. However, monitoring the performance of each affiliate separate is more than necessary.
Of course, there are particular KPIs for affiliate marketing in the case of multiple affiliates. These KPIs will also help you narrow your focus to your goals. Are you aiming to obtain more top-of-the-funnel or bottom-of-the-funnel customers?
Hiring voucher sites can significantly increase the program revenue. If you do your statistics, you'll realize that voucher affiliates gather the bottom-of-the-funnel clients familiar with your brand and your products. Business-wise, arranging this affiliate to drive more sales means you're focused on driving sales and conversions.
Or, if you see a revenue increase from content affiliate marketing, it means that you've attracted top-of-the-funnel clients through the affiliate program. In other words, arranging this affiliate means that your pertinent focus is brand awareness.
In business, it's essential to keep both affiliate marketing goals balanced, and it's a no-brainer rule. But, it can be challenging to refocus from one affiliate category to another and lead the business on top of it.
With the appropriate affiliate marketing KPI, you'd be able to track the imbalance and immediately act on the spot. That will help you navigate the occurring issues and manage to keep up with the pace of different affiliate marketing goals parallelly.
Gross Orders vs. Net Orders
The gross and net orders fluctuations are a crucial affiliate marketing KPI to always keep an eye on. Gross orders refer to the total number of sales coming from your site or program, while the net orders are the subtracted gross void orders due to the return or cancellation of the program or site.
So, with such affiliate marketing KPIs you can constantly monitor the gross and net orders fluctuations and detect several business hazards like fraud, low-quality exports, logistic failures, and the like. For example, if the gross orders are mounting but the net orders are low is a symptom of a serious financial issue here.
Businesses often face common problems like returns of whole stacks of goods because of the same complaint as ever. Later, even if they managed the issue, they still lost money or time while tracking the core of the issue.
If they had these affiliate marketing KPIs, the KPI would have shown the origin of the problem. When it comes to fraud problems, affiliate frauds are the most common. Often affiliate partners take illegal means to meet their expectations of placing orders and earning a commission in no time.
Yet, such risks are often a minefield because you never know when you'll step on something you shouldn't.
Year-Over-Year Growth
Comparing annual growth is one of the most evident manners of leading your business.
It can tell you the overall score of the business year and the previous year. These annual statistics or reports are integral for the overall business development, as they can determine how well your program is.
This affiliate marketing KPI examines your program performance top to bottom, not only monthly sales performance. For such statistics, businesses need Leading or Lagging affiliate marketing KPIs to track the company's progress over the year.
Generally, monthly sales experience oscillations, as each industry has a hay season. Take gift shops as an example; they make the best profits during the Christmas season, while summer stores selling swimwear make more money. Each profitable season should be measured in terms of fertility, be it summer or spring.
Businesses must know in advance the fluctuations in revenue year after year to fix possible issues and increase the budget.
So, to skip a few steps to affiliate marketing success is impossible, but you can accelerate the program. You need a leading and lagging KPI to test and examine the program's longevity. This is among the most relevant affiliate marketing steps to take you to a healthier and more stable business.
The best tool for detecting the annual loops within a text is the KPIs for affiliate marketing, including click traffic, net sales, gross order number, new customers, and the like.
Anything new coming to your company, like new customers or old simply doing its job impacting your revenue, must be recorded. Having such information at hand will help you estimate the potential budget of your affiliate plan or program.
Moreover, thanks to these affiliate marketing KPIs, you'll learn more about the performance of your site, program, or store and learn whether it has had consistent demand through the years.
Overview of Affiliate Marketing KPIs for 2022
Running an online business without clear sight of the activities in the background can lead to financial leaks or an unproductive business year. Therefore, to enforce fruitful business years, experts incorporated several Key Performance Indicators to help you navigate clearly to your goals. Each affiliate marketing KPI has a different mission to cover precise information.
Managing the traffic and boosting conversion is what affiliate marketing promises when you agree to collaborate. Many businesses experience downsizing even after collaborating with affiliates, but they cannot find out the core of the problem.
Online businesses won't miss a single movement in the background without being notified with affiliate marketing KPIs and several other metrics. That's the power of the affiliate tracking software and the grace of contemporary technology.
Share this article: