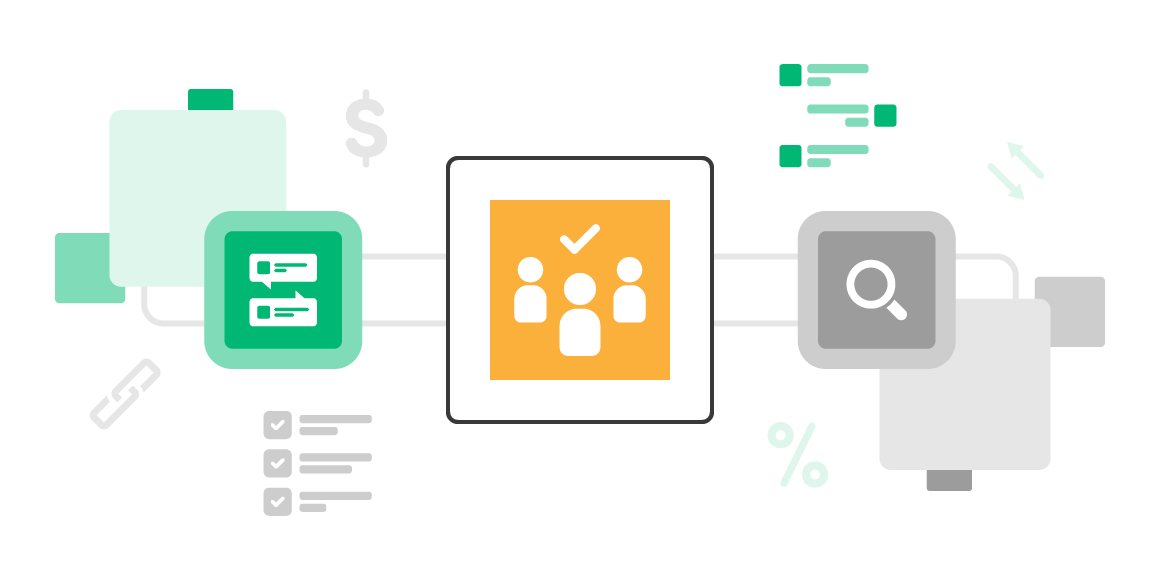 How to Recruit Affiliates for High-Impact Partnerships for Beginners
In this article, we'll be sharing a few techniques on how to recruit affiliate partners, as well as actionable tips to help you recruit top affiliates.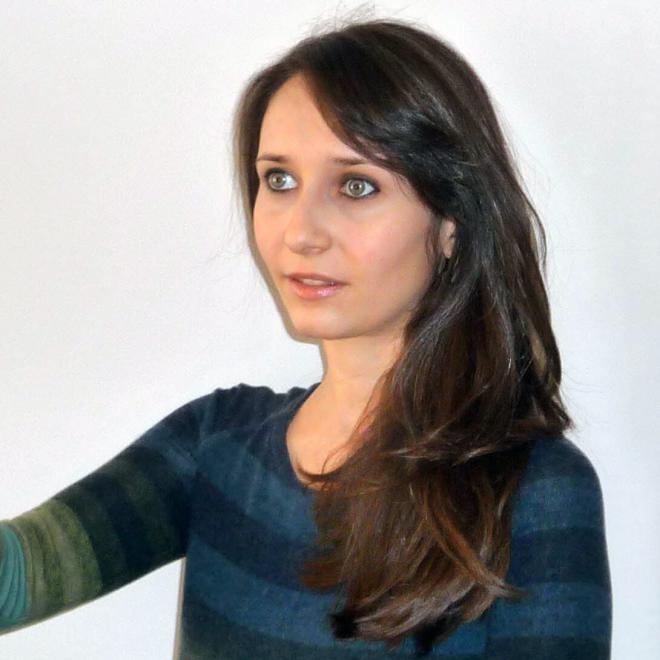 Geri Mileva
11/8/2023
Recruiting the right affiliates helps target new customers, drive conversions, and boost your revenue by up to 30%. This type of performance-based marketing is a great fit for businesses across various industries for several reasons. Affiliate marketing offers a cost-effective way for brands to promote their products, expand their reach, and bolster other marketing initiatives. Affiliate marketing also generates measurable results and is flexible, allowing you to scale your program accordingly if your brand needs to adjust. Whether you're an e-commerce brand, SaaS company, or a small business, you can leverage affiliate marketing to scale your marketing efforts.
How do you recruit affiliates to generate high-impact partnerships for your business? In this article, we'll be sharing a few techniques on how to recruit affiliate partners, as well as actionable tips to help you recruit top affiliates.
10 Ways to Recruit High-Quality Affiliates for Your Business
1. Leverage Social Media and Influencer Marketing
Recruiting affiliates—the right ones for your business—can help you grow a successful affiliate program. Below are several methods to help you recruit top affiliates.Use social media platforms to find and connect with potential affiliates. Look for content creators who are working within your niche and who have an audience that will be interested in your business. When reaching out to influencers, it helps to create a personalised message that clearly communicates how your program and products or services can benefit them and their audience. For example, you can offer a discount code that they can share with their followers.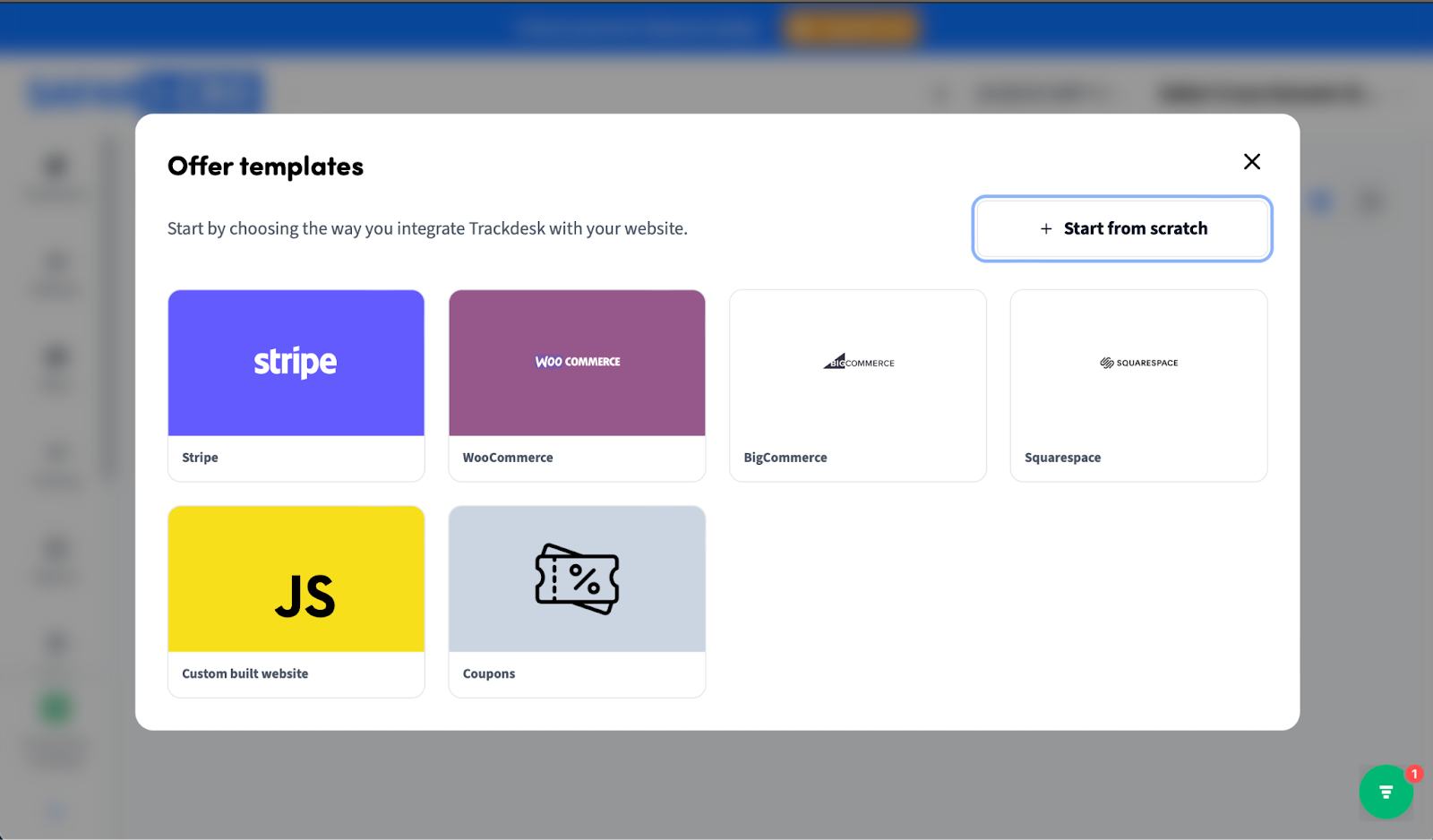 Trackdesk offers discount codes tracking and is working toward integrating discount vouchers and coupons to help boost referral rates and clicks. As a powerful affiliate tracking solution, trackdesk has an affiliate coupon tracking feature that lets you optimise how you monitor affiliate performance and measure conversions. Through this feature, customers can redeem a code, and the conversion will then be attributed to a specific affiliate partner.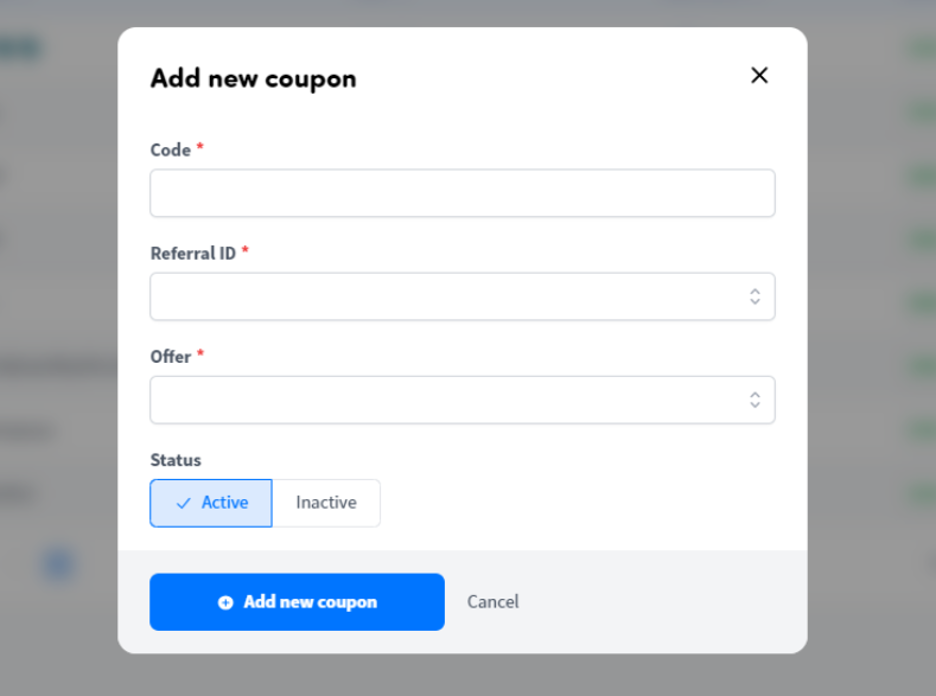 Source: https://help.trackdesk.com/en/articles/8312670-coupons


Finding the right affiliates for your business requires a lot of research, given that anyone with a platform can be a potential affiliate. Before developing an outreach campaign for influencers, bloggers, and other content marketers, check their respective platforms to assess their performance and determine how they promote their partners and their target audiences.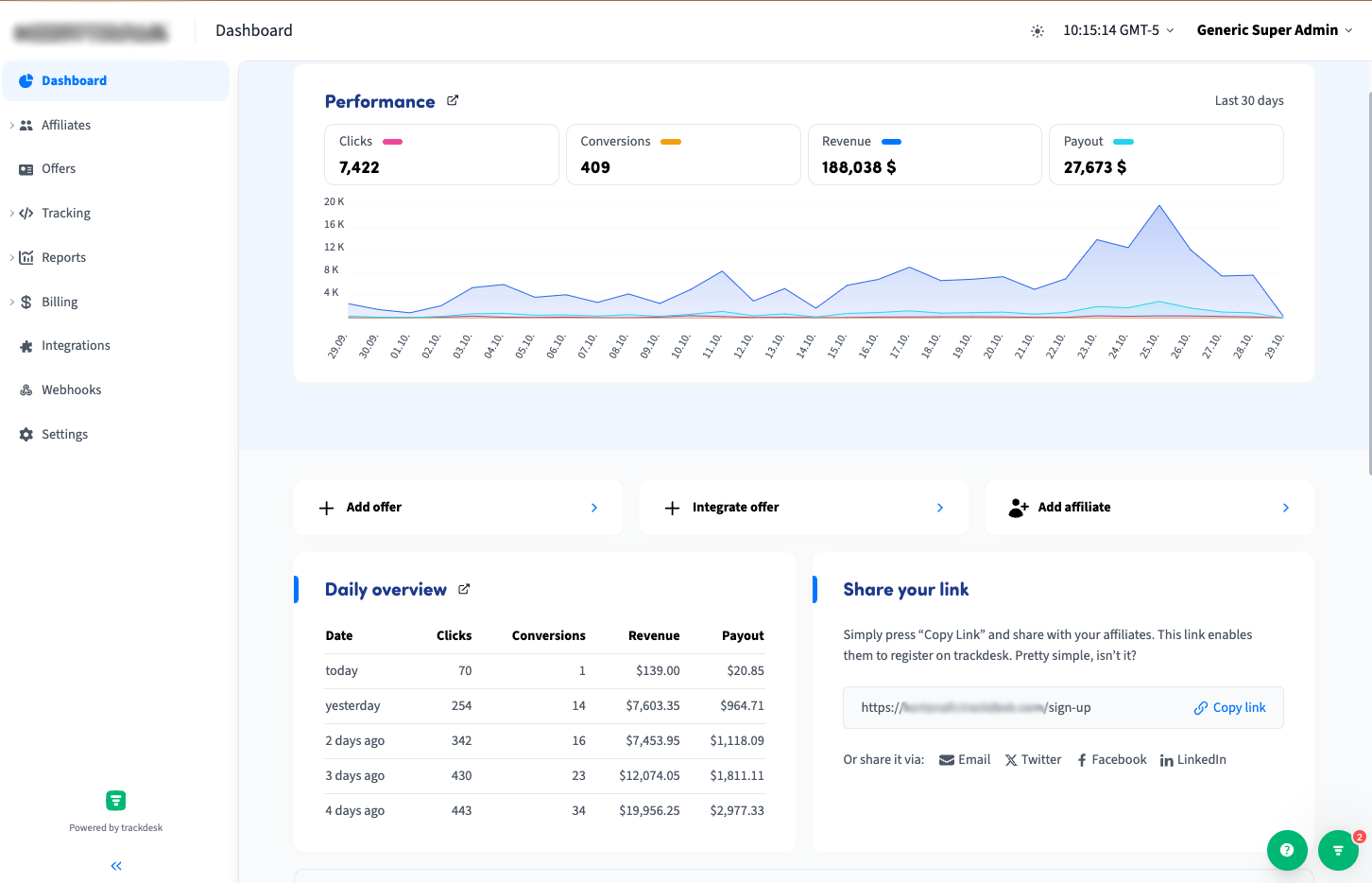 2. Use Affiliate Marketing Networks
Affiliate marketing networks like CJ and ShareASale help expand your reach and enable potential affiliates to easily discover and sign up for your program. Affiliate networks give brands access to a large pool of potential affiliates and can help them streamline their recruitment process. However, given that these networks act as middlemen, they will charge a fee, which is usually a percentage of the revenue you generate from the program. You may also end up having more competition, given that your competitors may be using the same service to recruit affiliates.
3. Advertise Your Affiliate Program on Your Website
Your website is an invaluable tool for promoting your affiliate program. Affiliates who are looking for an affiliate program from a specific company will likely check a company's website to find information about your program. Adding a link to your program on your website, such as in the footer, makes your affiliate program more visible to potential affiliate partners. This link could redirect visitors to an optimised landing page or sign-up page that offers more information about your affiliate program and how they can sign up to become an affiliate.
Here's an example of what trackdesk's landing page for affiliates looks like. As you can see, the landing page explains what the affiliate program offers, such as competitive commission rates and a potential for monthly payouts to increase. It also has two main buttons: one for new affiliates and another for onboarded affiliates.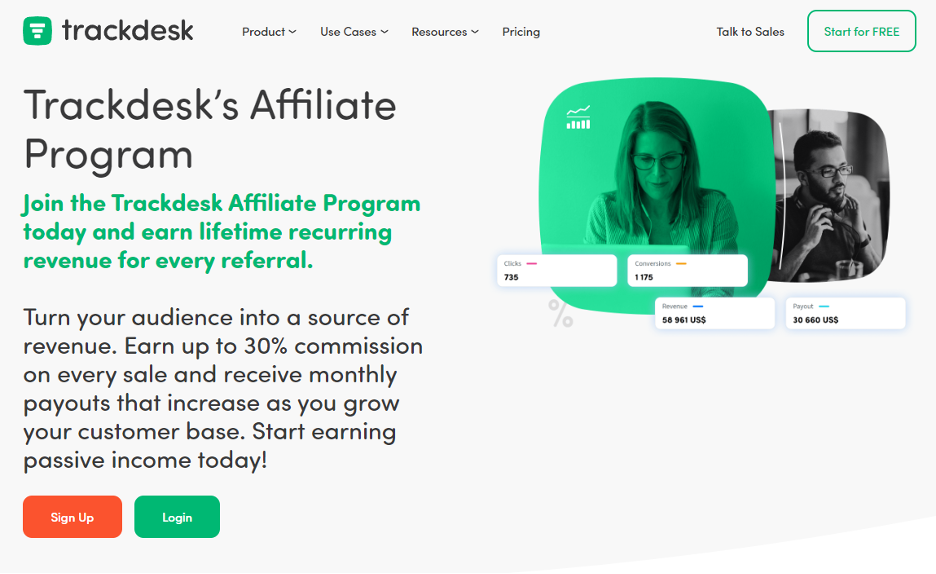 While you can create a landing page for your affiliates, you can also use trackdesk to link your affiliate program's URL to your landing page on your website.
4. Use Email Marketing
You can use email marketing to reach out to existing customers or subscribers and recruit them for your affiliate program. There are several approaches when it comes to using email marketing to recruit affiliates. You can send an invitation to customers after a purchase or include a link to your affiliate program within different types of customer emails, such as newsletters, welcome emails, and promotional emails.
5. Focus on SEO
Using SEO to bolster your affiliate marketing strategy allows you to deliver relevant and valuable content, build authority, and boost online visibility. Optimising your content for search also helps you reach the right people at the right time with the right message. When leveraging SEO for affiliate recruitment, perform keyword research to help you craft more targeted messaging and campaigns. Additionally, you can use SEO tools to discover who is linking to your website and who could be potential affiliates.
Focusing on SEO can help you find content marketers and social media influencers.
6. Look for Industry Experts
Promoting products or services, such as SaaS or tech products, can be challenging, given that they require a detailed explanation of how they work and what their benefits are. Finding affiliates within your niche allows you to tap into individuals who know the industry, can understand your software, and can convey its features and benefits more clearly to your target audience. It's also an advantage that these industry experts already have an established audience who are interested in your niche. To find industry experts, you can attend events like conferences or look for influencers who are already talking about your business. Track mentions or conversations around your brand, and once you've found potential affiliates, create an outreach plan.
7. Spend on PPC Ads
Running paid ads can help you find and recruit affiliates faster compared to other methods like SEO or email marketing. Look into utilizing different types of paid ads, such as social media ads and search ads like Google Ads, with the goal of converting your audience into affiliates. Note that the platform you use for paid ads will depend on who your target audiences are. Before utilising paid ads to recruit affiliates, you'll need to get more in-depth insights into your audience segments so that you can customise your ads and the keywords you'll be using accordingly. Testing your ads helps you determine their performance and optimise them further.
8. Identify Potential Brand Ambassadors
Looking at your customer base is the most straightforward way to recruit affiliates. Existing customers make for ideal affiliates because they know your product and have first-hand experience in using it. They can use their own experience to relay your product's benefits in a more accessible way.
SaaS businesses, for example, typically follow a subscription-based model, it's likely that your customers are also in it for the long run. They're happy with your product or service and trust your brand so much that they're willing to pay for it on a regular basis. This gives you social proof.
Plus, working with your existing customers gives you the opportunity to reward their loyalty, which also helps with customer retention.
Types of affiliates you can recruit with this method include agency partners, which are loyal customers who already know and use your product.
9. Analyse the Competition
Competitive analysis helps you determine what the competition is doing, what they're offering to their affiliates, and how you can improve your recruitment efforts and overall affiliate program. Check their websites to learn more about their affiliate program, such as their commission structure and other perks. You can also check out affiliate networks to access more information about a competitor's affiliate program. Using the insights you've gained, you can craft a better offer or terms to recruit top affiliates.
Now, this might seem counterintuitive, but you may also want to consider partnering with other SaaS brands. Find other non-competitive SaaS businesses that complement your product or service and share the same target audience. You can work together to promote your offerings through recommendations or special offers designed for their customers.
10. Build an Optimised Affiliate Landing Page
Optimising your landing page helps you create a good first impression on potential affiliates and generate more traffic for your affiliate page. This involves performing a keyword analysis and identifying ranking keywords that bring in a lot of traffic. You can create search-optimized content that delivers value to your target audience or addresses their pain points. Create a copy that clearly conveys the point of your program and persuades visitors to sign up for it.
Design a conversion path that's simple and easy to understand—refrain from adding too many navigation links, which can distract visitors.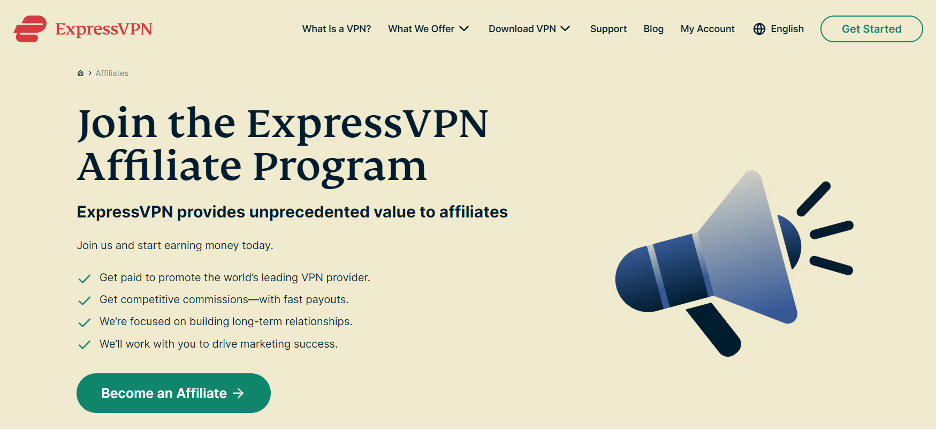 Source: https://www.expressvpn.com/affiliates
Use eye-catching visuals and include a compelling CTA to encourage visitors to take action. You can also add social proof, such as testimonials and reviews, to your affiliate landing page to help build your credibility. Lastly, make sure to test your landing page and analyse its performance. Doing so allows you to further optimise your affiliate landing page.
An optimised affiliate landing page helps you find different types of potential affiliate partners, including PPC affiliates, influencers, and content marketers.
5 Strategies to Make Your Affiliate Recruitment More Effective
When recruiting affiliates, it's crucial that you evaluate their brand and audience. Do you share the same target audience? Does their perspective or messaging align with yours? Also, assess their portfolio. What other brands have they worked with in the past? Did they work with brands in your industry or niche? Lastly, check to see if they've worked or are working with your competitors. What kind of partnership do they have? If they're currently collaborating with one of our competitors, will they be able to prioritize your brand? Aside from these considerations, we're sharing some actionable tips to help you recruit top affiliates.
1. Identify Your Affiliate Program Goals
The right affiliates can help create high-impact partnerships that mesh well with your marketing strategy. When recruiting affiliates, you want to find partners whose objectives align with yours. Determine how this partnership can help you meet your business goals and objectives. Setting measurable goals also helps you assess your program's and affiliate's performance. Do you want affiliates to bring in a certain type of customer? How much revenue do you want your affiliates to bring for a certain period (month, quarter, or year)?
2. Focus on Showcasing Your Affiliate Program's Benefit
Most brands advertise their affiliate programs on their website. One way to make your program stand out and recruit top affiliates is to highlight your program's key benefits and features. For example, you can feature your competitive commission rate, long cookie duration, and other perks.
3. Build a Marketing Strategy While Keeping Affiliate Marketing and Recruitment in Mind
Devise a marketing strategy that targets search phrases or keywords for affiliate marketing in your industry. By leveraging these keywords, your content, for example, can rank higher in SERPs and potentially generate more traffic for your website. This, in turn, can help generate a lot of interest for your affiliate program.
4. Create an Attractive Commission Structure
Attract and recruit top affiliates by creating competitive commission-based compensations.
For instance, recurring commissions act as a big incentive for potential affiliate partners to sign up and refer high-quality leads to your business. When developing your commission structure, consider if you'll offer fixed or percentage-based commission rates. Also, factor in commission tiers, bonus rewards, and limits on the amount of recurring commissions. It also helps if you clearly set your payout terms, including payout methods and minimum payout thresholds.
5. Manage Your Affiliates Effectively
Effective affiliate management helps you track and monitor your affiliate's performance, promote sustainable growth for your affiliate program, and protect your brand from affiliate fraud. Trackdesk has a fraud protection feature that helps you monitor and address suspicious behaviour. You can see indicators tied to three main entities: Affiliate, Click, and Conversion. You can see the indications in the following locations: Affiliate List, Click Report, and Conversions Report. Note that this feature is available on all trackdesk plans.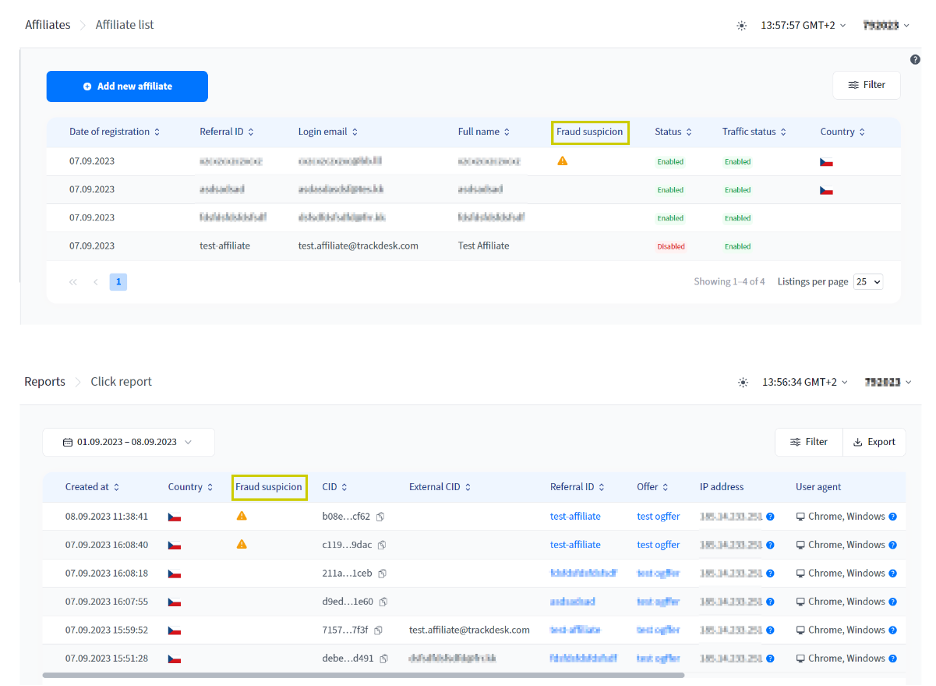 Source: https://help.trackdesk.com/en/articles/8347946-fraud-prevention
You can partner with an affiliate manager for this or use an affiliate tracking software like trackdesk, which lets you manage affiliates within your network through powerful features like automation, creative assets management, and affiliate access.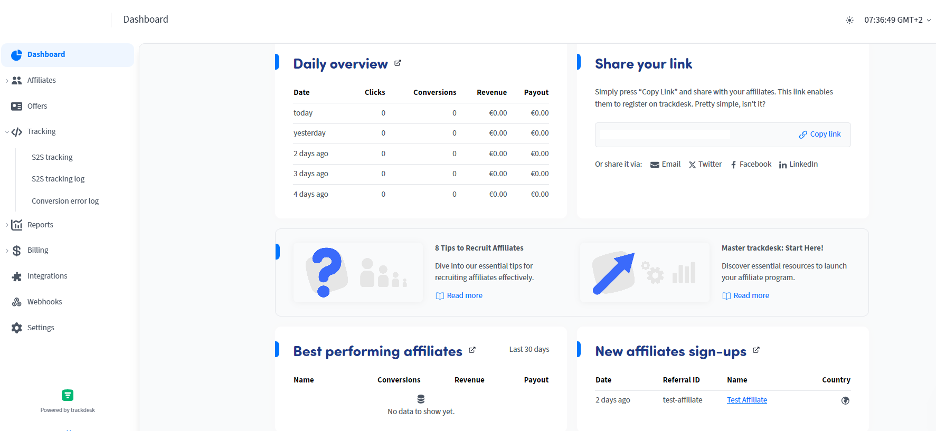 On the trackdesk dashboard, you can see key information, such as your best performing affiliates and latest conversions, that helps you monitor your affiliate program. Aside from the daily overview, trackdesk also offers comprehensive reports that provide you with an overview of your landing page performance, affiliate performance, and click and conversion reports.

Developing Impactful Affiliate Partnerships for Business Growth
Finding and recruiting the right affiliates for your brand is a time-consuming process that will require you to carefully screen each candidate and optimise your affiliate marketing strategy. However, when done well, these partnerships can benefit both you and your affiliate partners. Through effective affiliate recruitment, you'll be able to leverage the power and influence of your affiliates to bolster brand awareness, reach new audiences, and grow your revenue.
Share this article: