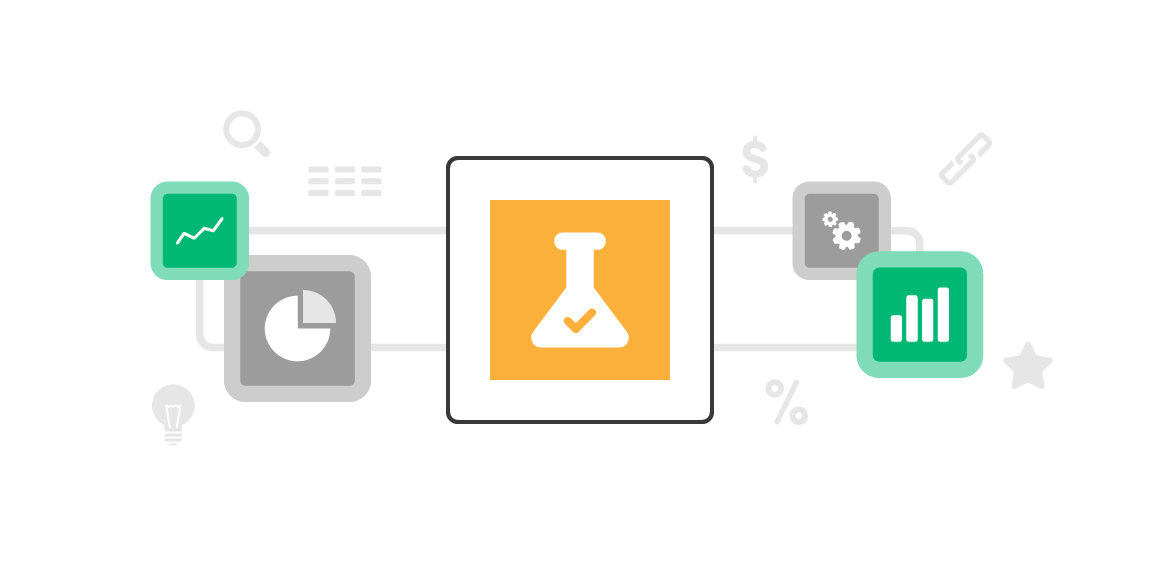 10 Powerful Affiliate Marketing Strategies To Try in 2023
To succeed in affiliate marketing, you should use proper marketing strategies that ensure long-term effectiveness and results. In this thorough guide, you will learn about the most powerful affiliate marketing strategies you can implement right away!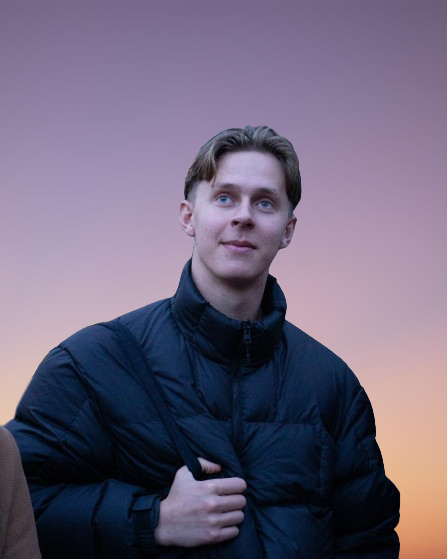 Dominik Sova
1/16/2023

Affiliate marketing holds 16% of all e-commerce sales worldwide, a fruitful, risk-free business endeavor. Boosting businesses on a global scale, this can only work efficiently with the right strategy at hand. These marketing strategies are not one-size-fits-all, but choosing the perfect one can be immensely beneficial to the growth of your business.
What is an Affiliate Marketing Strategy?
This trending tactic is becoming the most utilized branch of digital marketing in several industries. Many rookie enthusiasts need a guide to affiliate marketing since all the corners of the marketing tactic can be overwhelming.
Affiliate marketing is a marketing tactic involving an advertiser and an affiliate to promote products or services. A certain commission is issued for each sale the affiliates achieve in these marketing strategies.
A few strategies have been proven to be most popular among affiliates, including loyalty segments in your campaigns, partnering up with other affiliates, considering cryptocurrencies, and a few more. Devising a marketing strategy can generate more leads, higher KPIs and ROIs for the advertisers, and a higher commission rate for the affiliate.
From the way affiliate marketing is developing today, it seems like the future of this marketing tactic will benefit those willing to emphasize the mobile markets or micro-influencers. Influencers and micro-influencers can continue to share their favorite products with their followers. What will change here is the approach of prominent companies that will try to be a part of the action and monetize every mention of their products.
However, looking back at the aughts, online shopping happened nearly only on desktops and laptops. Fast-forward 10 years, the focus has shifted to mobile devices for almost any online inquiries.
Today, every business tries to make itself mobile-friendly and appeal to a broader audience.
According to Google Analytics, the number of voice searches has immensely increased over the past few years, and so has the demand for more mobile-friendly content.
A reported 40% of online transactions have been completed via mobile devices, while a whopping 70% of mobile searches convert to purchases in an hour.
Other than e-commerce retailers, businesses, in general, will also set aside more of their budgets for affiliate marketing programs and as per research, 15% of a company's budget is reserved for developing that programs.
A powerful strategy will be dim without affiliate tracking software. Such software is used to track referrals, promotions, or recommendations to purchase products or services from another brand or an individual.
Affiliate tracking can be made through plugins on an affiliate website or special software. Affiliate tracking software manages the shift in marketing activities and keeps track of the essential affiliate marketing KPIs.
Advanced Affiliate Marketing Strategies You Must Try
Drawing the attention of many solopreneurs and businessmen in 2023, the number of industry branches becoming part of affiliate marketing is rising.
To ensure you've done your best to make it as an affiliate marketer, consider some of these marketing strategies:
1. Affiliate Competitiveness
Time will be generous to affiliate marketers since 2023 is the estimated year for an increase in competition. Many involved in this will probably turn to Quora to explore new and trending niches and learn how to create an effective strategy to stand out from the crowd and elevate their revenue rates.
Quora is the go-to source for inspiration since it's the most visited platform for inquiries people can't otherwise find on Google.
For businesses seeking to boost their revenue, discovering a particular niche and key product means they could get one step ahead of the competition. Starting an affiliate program will increase revenue rates and generate more sales for a business owner.
For affiliates, on the other hand, having the opportunity to share a product or a service with their following means they'll attract more customers and drive leads, which will, in turn, lead to a much-appreciated flow of revenue.
2. Affiliate Diversity
It's only natural that the more niches are becoming popular for affiliate marketing, the more diversity will become prominent. A diversity of affiliate marketers means different audiences will become part of this marketing tactic and broaden the spectrum of products and services promoted.
Although there are already various affiliate types that advertisers can collaborate with, their number is constantly increasing due to innovations on the rise.
The pool of affiliate markets will become more diverse, thanks to AI advancements, the latest smart apps, new voice-controlled gadgets, or anything else that is trending. All novelties will allow affiliates to jump into the pool of diversity and get noticed by a broader audience.
3. Live Shopping
Live shopping can be regarded as a conventional, traditional, and online shopping hybrid. It's becoming a preferred way of purchasing and placing products or services in real-time.
China's Alibaba is a shining example of live shopping. Since its introduction to the world in 2016, the selling platform hasn't seized to attract customers globally.
Influencers will mostly benefit from live shopping since it will give them an opportunity for a hands-on connection with their audiences during live sessions. Facebook Live is a fine example of influencer live shopping. It has become a medium for selling, promoting video games, scoring Black Friday deals, launching a new smartphone, showcasing the latest product offerings, etc.
There's no doubt that live shopping is a slam-dunk strategy in affiliate marketing. However, in most cases, successful marketing relying on the live shopping strategy will depend on the affiliate's creativity.
4. Loyalty Marketing
Loyalty programs have been an integral part of traditional marketing for a long time, and it has persisted as such mainly because of the success of the marketing model. Customers like to feel appreciated for spending their money on a particular product or service, whether it's getting a discount, coupons, privileged first-in-line deals, or related perks.
Loyalty marketing is becoming part of affiliate marketing as well. It is a way to retain the existing customer base by offering exclusive deals, promotional samples, coupons, or even gift cards. If an affiliate marketer throws a loyalty program in the mix, they will lay the grounds for customers to keep coming back, thus boosting revenue.
Cashbacks or charity donations are among the most popular loyalty marketing privileges in this marketing. They allow marketers to forge a bond with the customer base easily.
5. Everything Is Data
2023 will be all about brands hopping on the data train to significantly impact their respective customers. Data gives marketers the best insight into their performance and indicates what needs further improvement.
Today, the number of companies that look to engage in a marketing campaign that will deliver actual outcomes is on the rise. Businesses are becoming more attentive to data and discovering all flaws and perks of the particular business model.
Whether a marketing campaign will be considered successful will depend on the rate of investment return and revenue. Data-driven affiliates will start monetizing on positive results to reach a wider audience. Marketing campaigns will target certain angles in audiences, i.e., everything the data has found to be relevant. Affiliates will start using a more strategic approach for their potential consumers and the content they create.
Data-driven affiliates won't be able to move forward if they bypass the trial and error phase of the affiliate campaign strategy. Affiliates will struggle to see their investment return and revenue grow until they've found the right "recipe" for product placement.
6. Bigger Budgets
Yes, affiliates will need more greens in their budgets to get a feeling of success. In the course of the past few years, we've seen a larger number of companies getting a piece of the affiliate marketing cake.
Due to the pandemic outbreak, it has become an appealing tactic for many people around the globe. But, 2023 will be the year of the affiliate marketing budget. Brands that have seen the impact of this tactic on audiences have made the smart decision to invest more money in this marketing field.
According to research, more than $8.2 billion will be spent on it in 2023, marking the highest increase in affiliate marketing budgets since 2015.
Instagram is the one social media platform that has seen the most success in terms of influencer affiliate marketing, blending the marketing tactic nicely into the mainstream. With a selection of brands and influencers present on Instagram, it undeniably attracted the attention of a massive audience.
Instagram's witty marketing tactics cleared the route for more labels to uncover the benefits of this tactic. Both brands and influencers in this marketing strategy conclude a successful collaboration by using the commission payment method, the preferred and most commonly used payment method in affiliate marketing.
7. Micro and Nano-Influencers Take The Lead
Influencers have established themselves as the mirror image of this marketing, and that's because their popularity has skyrocketed over the past few years.
There will be a lot more buzz around influencers in 2023, with micro and nano-influencers taking the lead in the sphere in general.
The difference between micro and nano-influencers lies in the volume of followings they have amassed. Standard influencers, like celebrities, have the most significant followings. Micro-influencers are followed by a substantially-numbered following, like regional celebrities. On the other hand, Nano-influencers are local celebrities you recognize on the street. When you pair micro and nano-influencers with affiliate marketing, the outcome is inevitably positive for the affiliates and the influencers.
Labels and companies that operate on a limited budget will often look to connect with micro-influencers or nano-influencers regarding this tactic and try to make the best out of their popularity to attract a customer base.
Since 2023 will see the most budget increases yet, to ensure a return of investment (ROI), brands will dedicate a nice portion of the funds to an influencer campaign, mainly for micro and nano-influencers.
8. Utilizing Automation and Artificial Intelligence
Companies that have been in the business of affiliate marketing know first-hand how much time and effort it takes to conduct a solid campaign and see some profit.
In 2023, more and more brands will seek to use the perks of artificial intelligence, as well as the processes of automation, to save time, energy, and resources.
Artificial intelligence can work wonders too. It can boost the process of reaching wider audiences, change the way this particular marketing tactic is conveyed, and ultimately boost sales.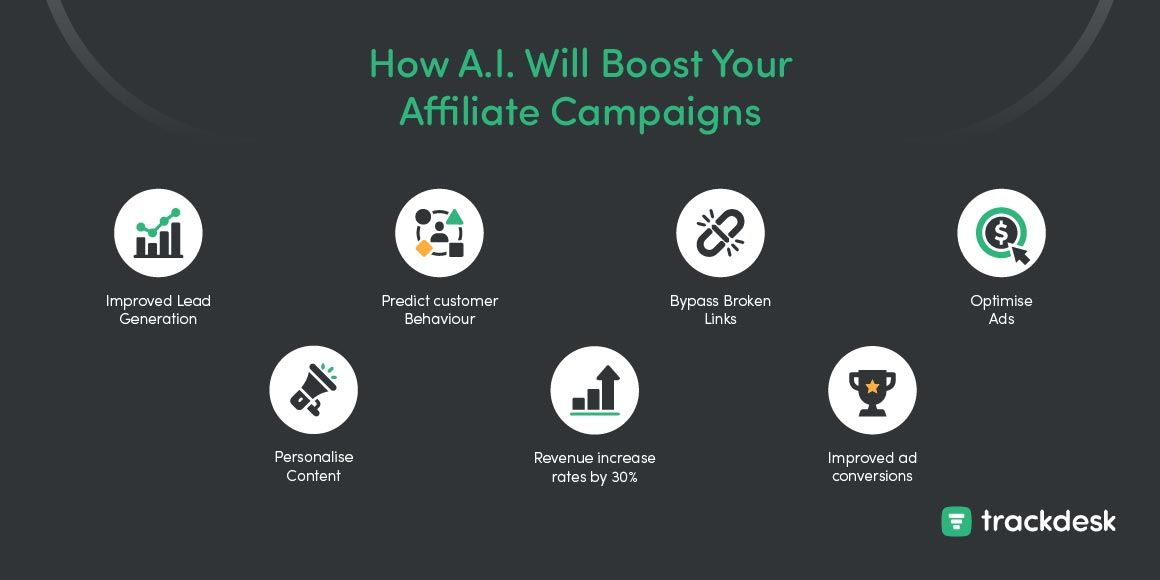 Using AI can help with sourcing influencers or affiliates for a marketing campaign and aid revenue growth. Many tech-driven entrepreneurs of today prefer to take the automated route in their affiliate marketing strategies, which is why AI fits the model like a glove.
Other than locating influencers or affiliates, AI can help track performance and help with data collection. Artificial intelligence tools can also be helpful with rendering appropriate KPIs for affiliate marketing with the same focus and accuracy levels.
AI can boost your affiliate marketing campaign from these aspects:
Generate leads;
Predict customer behavior;
Bypass broken affiliate links;
Run ads at the most convenient time;
Connecting audiences with highly-convertive offers;
Elevate revenue rates by up to 30%;
Personalize content
9. Crypto Will Attract More Attention
In the course of the past few years, cryptocurrencies have entered the mainstream water deeper than ever before. Since the launch of Bitcoin in 2009, more and more industries have adopted its use.
There have been cases of specific brands, mainly in the IT and tech industry, favoring Bitcoin to purchase over traditional currency. People are becoming more drawn to invest in altcoins, while NFTs made a boom in 2021, opening the door for more crypto to enter the scene. Cryptos have become the favored means of exchange between advertisers and affiliates. As cryptocurrencies become more generally available, advertisers and affiliate marketers join forces to monetize the trend and boost their revenues.
Due to their huge demand, cryptocurrencies have also garnered the attention of governments and banks worldwide, which opened up more room for crypto investments.
10. Affiliate Partnerships
Give it some time, and affiliates will start partnering up with each other to attract more advertisers. This particular way of co-marketing has become immensely popular with affiliate marketers in 2023.
Partnerships between affiliates are a great way to double the reach and generate more leads. For example, say that a haircare influencer you follow partners with another influencer promoting a hair salon. Such a collaboration will be beneficial for both influencers and advertisers. This is merely an example, though the possibilities for a successful co-marketing affiliate marketing are practically countless.
In terms of commissions, each of the partners in the co-marketing deal can decide on a joint revenue share, or each keeps their own commissions. It's a matter of agreement.
Which Affiliate Marketing Strategy is the Most Effective?
If it's too good to be true - it probably is. Although this marketing tactic sounds like an easy-money gig, it's actually more like finding a needle in a haystack.
For this marketing strategy to have an effect, a few factors must be considered. Such are the originality of content, the audience volume, and the research conducted, among others. Other than these super-important aspects, the popular marketing tactic won't be complete without the use of affiliate marketing tools like Grammarly, Yoast SEO, and Flippa, among many others.
All things considered, the most effective strategy for this tactic is the one that's a perfect mix of a few aspects, like:
Original content: Nothing speaks to audiences louder than original content, which is why effective marketing strategies revolve around creative, original content;
Accessibility: The best and most effective affiliate marketing strategy is the one that's accessible to a wider audience. With almost all of the world being online, social media platforms have become the starting point for affiliates today. Consider social platforms as the bridge between the affiliates and their audience to enjoy a properly implemented marketing strategy;
Clarity: Vagueness is out of the question regarding this tactic and every aspect of marketing. Potential consumers want to know precisely what they're spending their time and money on, so be sure to be clear and transparent.
Internet presence: Maybe the most crucial aspect of creating a successful marketing strategy is being present online. Having a quality product to offer won't mean a thing if you don't make it known to the world. Your audience and potential buyers won't get the chance to try and buy what you're promoting if they haven't heard of you - which is why internet presence is a must;
Co-branding: Considered a marketing strategy of joining forces with a single goal - to sell a particular product or service, co-branding is a highly utilized strategy that has proven to generate solid revenue. Conduct research on affiliates with similar interests and see if you can stir the waters of affiliate marketing to work to your advantage.
Overview of the Most Powerful Strategies in Affiliate Marketing
From competitiveness between affiliates to affiliate partnerships - these are the best strategies for 2023.
Whether looking to start affiliate marketing by promoting a product or having superb content to offer, the whats and hows of affiliating can lead you to choose the rightful strategy and implement it accordingly - and in favor of your business.
Share this article: