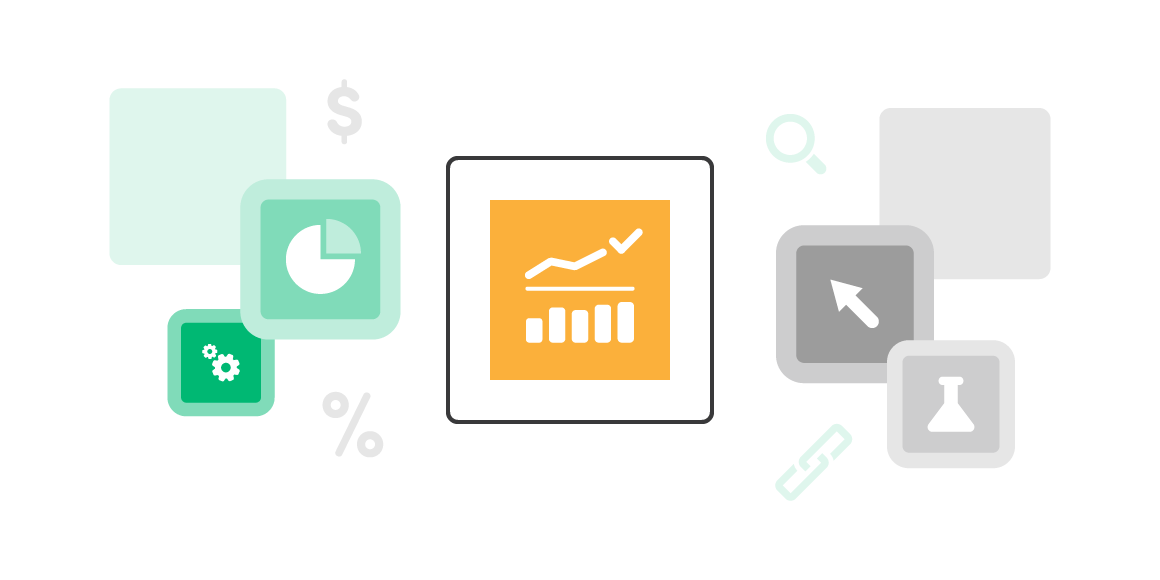 8 Steps To Affiliate Marketing Success for 2023
Affiliate marketing has proved its effectiveness in increasing sales, brand awareness, and overall authority. So, in this precise guide, we introduce you to the best, tested, and easy steps to succeed with this marketing strategy
Trackdesk Team
2/28/2023
Affiliate marketing has proved its effectiveness in increasing sales, brand awareness, and overall authority. So, in this precise guide, we introduce you to the best, tested, and easy steps to succeed with this marketing strategy.
Affiliate marketing seems a dream come true with no need for product creation or storage, delivery, or customer service. Many people hope to make money by selling others' products online using this strategy, but about 95% of novices fail to make any money.
You can find affiliate websites anywhere on the internet. But sometimes, their purpose is nothing more than to waste the money obtained from affiliate commissions by overselling products. It's no surprise that they are no longer visible in the media after a few months.
However, it is also true that there are many other affiliate websites devoted to product evaluations, which are financially lucrative. These affiliate websites understand the need for third-party advertising products while still providing value.
In this guide to affiliate marketing success, we'll provide you with some ideas for your websites and demonstrate thoroughly how you can succeed.
Top 5 Reasons Why Most Affiliate Marketers Fail
It's not unusual for marketers who have big hopes for their affiliate company to eventually give up since the money isn't rolling in immediately. But this is an ongoing process that requires time and patience to achieve success.
They Don't Know What They're Selling
Тhe biggest mistake marketers make is that most of the time, they don't even try to introduce themselves with the product they promote when they start affiliate marketing. They are not interested in putting in the effort and time to learn about the items they're promoting to make money, and they believe that providing just the most basic details about a product is sufficient. It's not - you have to know what you sell in and out.
They Don't Communicate With Their Audience
Knowing who your audience is and why they follow you is essential. Depending on the nature of your affiliate items, you may not have to deal with consumers' technical issues. But as an affiliate marketer, you must communicate with your audience to be triumphant. Many marketers prefer hit-and-run purchasers, but this is time-consuming and frustrating. If you have a strong connection with your visitors, they are less likely to click on your link and never return.
They Are More Interested in Pure Profit Than Assisting Others
Affiliate marketers often fail because they get into it only to sell, not help people. Many marketers put all of their efforts into selling but forget the importance of having happy customers. If you set your mind to catering to customers, you are more likely to succeed because helping leads to sales.
Multiple Niche Attempts
Of course, to optimize your affiliate profits, you want to develop as many successful specialty businesses as possible. However, this is not the way for most marketers, particularly those just getting started. Newbies should steer clear of multi-niche management even if they're technically doable. Establishing an affiliate marketing firm is much more complicated than it seems.
They Forget to Test
There are several ways to increase traffic generation, user experience, or conversion by testing and tweaking with affiliate tracking platform. However, many individuals fail to implement these procedures to achieve their goals. Even when traffic rises, you should take advantage of every opportunity to improve your affiliate's performance. Test your performance, implement what works, and ditch what doesn't.
Take note, though, that these are just some reasons why most affiliate marketers fail. The list is endless. And to prevent that, we'll introduce you to the most recent and essential points to follow.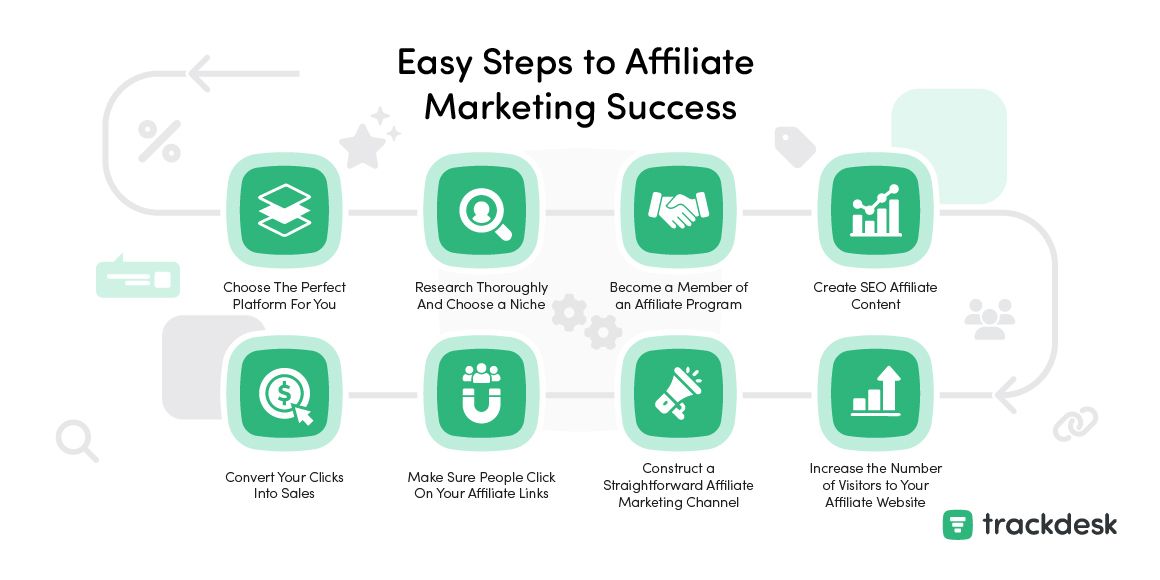 Easy Steps to Affiliate Marketing Success
Like a salesman who gets paid a commission for a successful sale, this marketing strategy functions the same way. Depending on how many people you recommend, you may earn anywhere from a few pennies to several hundred dollars in affiliate income. Here's a sum-up of how this works:
Your website or social media post should include a link to an affiliate product.
The buyer follows your affiliate link and is sent to the advertiser's website.
A cookie identifies the customer as the one you brought in.
The customer makes a purchase.
The purchase is attributed to you by an affiliate network, which pays you a commission.
Your affiliate dashboard displays your earnings, and the affiliate network compensates you!
Choose The Perfect Platform For You
Technically, you can start with affiliate marketing just about anywhere! Even Instagram can be a great platform to do that. But that doesn't mean that it's the ideal marketing platform for you. For example, maybe you are better at creating video content. If you want to build an audience and increase affiliate earnings, you need a YouTube channel or a blog.
Starting a blog these days is a doddle and costs next to nothing. However, it'll be worthless if no one reads it, so you should begin optimizing your website for search engines as soon as it is up.
It's no surprise that so many people use YouTube, given that it's completely free to post and produce anything there. You can improve your video's SEO by including affiliate links in the description.
With a website and a YouTube channel, you'll be a step ahead of the competition. Videos are an excellent way to boost affiliate website conversions. A blog-based affiliate marketing company may be ideal if you're just getting started.
So, before you choose a platform, think about the content you want to create and the audience you want to capture. Research the platforms and how this marketing strategy works on each one, and then choose the right one for you.
Research Thoroughly And Choose a Niche
To ensure that your affiliate company has long-term financial viability, the most significant thing you can do is thorough market research. Narrow the potential niches before you begin your own affiliate marketing business. But also focus on an area of interest that you are educated about. You'll be able to construct a long-term content plan and strategy. Knowing your marketing audience and what products they want is imperative.
There are many free niche research affiliate marketing tools that might assist you in your hunt for new ideas like Answer Socrates, Google Trends, and Exploding Topics. You may use Google Trends to verify that the niches you've discovered aren't merely fleeting fads. Most likely, you'll want to go with an evergreen specialty that pays year-round revenue.
Before you decide and break into a new market, you must determine who your competitors are. Try to find niches where you can better benefit from a smaller audience and differentiate yourself before expanding further.
For example, in the beginning, offer to teach, not sell. You may establish a strong community around your brand and even get an edge in search engine rankings if you choose to go specialized from the beginning.
Become a Member of an Affiliate Program
When you're brainstorming ideas or looking at affiliate networks, your existing audience or the one you intend to build should be your primary focus. Begin by focusing on affiliate programs that offer a high commission, high conversion rates, and a steady stream of customers.
There are three types of affiliate marketing programs:
Low-volume, high-paying programs are high-paying affiliate schemes that cater to specific markets. For programs with big commissions, there is also a lot of competition. If you're starting, you'll have a hard time competing against experienced marketers with big budgets.
Affiliate programs with low payouts but large volume - These are low-payout affiliate programs, yet they appeal to a broad audience. The good thing about these kinds of programs is that they often provide many items for sale. There are several affiliate programs, such as those offered by Amazon, but you'll need a lot of traffic to generate money with these affiliate networks.
High-volume, high-paying affiliate programs - These are high-paying affiliate programs that promote well-known items to a broad audience like credit cards. They recruit affiliates who are experienced and wealthy. It's almost impossible to compete with the spamming strategies used by specific individuals.
Create SEO Affiliate Content
You're doing it wrong if you add affiliate links to an existing blog article and call it affiliate marketing. If you do not have high-quality, relevant material, none of the methods listed above will be useful to you. Keeping your affiliate site successful requires high-quality content in areas related to your affiliate links.
When creating your wish list, don't limit yourself to just the best-selling things on Amazon. Make an extra effort to ensure that the information you provide answers your website users' needs. To write product reviews, you must first sample the product in question before writing about it. You may start with what you currently have if finances are a concern.
Don't limit your creativity. Try writing product reviews, roundups, comparisons, tutorials, resource pages, ebooks, etc. Employ innovative language and eye-catching design to ensure that your consumers can quickly and easily choose whether or not they want to purchase a product or service straight from your website.
After creating your content, it's time to optimize your page for conversion. Without the need for a slew of cumbersome plugins, you may do the following tasks:
Button placement
Callouts
Banners
Graphs
Charts
Comparison tables
Images
Pop-Ups
Increase the Number of Visitors to Your Affiliate Website
You can use social media platforms, SEO blog entries, and email lists. The most successful affiliates put money into SEO to increase traffic.
Keywords
With buyer intent keywords, you'll be able to get in front of people who are just about to buy something. It's а lot simpler to persuade people to click on your affiliate links and earn money using this method than attempting to sell to those who aren't ready to purchase. As long as you can maintain a high search engine ranking for your target keywords, you'll continue to get passive visitors.
Social Media
Social media platforms are an incredible way to drive traffic. However, they demand some time and effort to get the most. Consistency is also crucial with social media platforms as you can't expect high traffic or conversion rates by posting once in a blue moon.
Email Marketing
Email is a terrific way to keep your audience updated on new products and reiterate your top product recommendations. Use them to inform your followers of further information and motivate them to return to your site.
Email's direct nature ensures that personalized communications are sent directly to your prospects' inboxes. This helps customers understand more about a product and takes them closer to purchasing.
Subscribers to an affiliate marketer's email list might receive various messages from the marketer.
Downloads without cost
Reports
Updates to the blog
Notes and announcements
Limited time only offerings
Construct a Straightforward Affiliate Marketing Channel
As a result of meticulous planning, an affiliate marketing channel may take customers from the beginning of their purchase journey to the point when they become repeat buyers.
When you use a funnel, you keep the reader engaged throughout the buyer's journey. Although it may be months or even years until they're ready to purchase, they'll still be a customer.
Тhere are four essential stages of the buyer's journey:
Consideration
Awareness
Conversion
Loyalty
Email lists allow you to deliver extra information to bring your customers through a new buyer's journey and guide them down the sales funnel for a new product.
Collect the addresses of every visitor who lands on your website. It is much simpler to lead and fill in the gaps in the buyer's journey with an email list. Please provide them with as much information about your own experiences with the product and other customers' testimonials, how-to guides, and directions.
A link to your affiliate landing page should be readily available.
Make Sure People Click On Your Affiliate Links
To ensure that visitors click on your affiliate links, you must consider your website's link placement, context, and callouts (CTA). It's not the most optimal choice to have all of your links towards the bottom of your page. It is preferable if your link is included at the start of your article. Keep spammy and out-of-context links at all costs.
The use of callouts in your material, such as buttons, tables, and boxes, may help pull in your users by making it easier for them to read and use your website.
Convert Your Clicks Into Sales
If you focus on the best affiliate marketing KPIs, earning a lot of money, it's a good bet that the product is selling well. Be clever and seek merchants who have effectively converted programs into the game.
The product page is where the sales process begins. But two conversions are required for profit, and the visitor purchases a product at this second conversion. There are no conversion rates you can manage in this marketing strategy since the merchant is responsible for the checkout process.
You may sign up for an affiliate program and ask questions if there isn't much information about it. It would be best to ask about their typical conversion rates or an estimated number of the monthly commissions earned by their top earners.
Observe your surroundings and follow your instincts. The best way is to consider if you'd suggest the program or product in question to friends and family if you had any doubts about it feeling "odd."
Affiliate Marketing Success for 2023: Final Verdict
Please let your followers know if you use affiliate links in your articles. To begin with, the Federal Trade Commission requires that you are transparent about it. Another way to engage your audience is to talk about your affiliation with a specific organization. Seek the advice of a lawyer if you're uncertain how to word your disclaimer.
Don't expect to make a fortune or be able to quit your 9–5 work in a single day, though. This is a time-consuming endeavor that won't bring you success overnight. Set fresh objectives for your site and keep trying new things as it expands.
When it comes to affiliate marketing programs, you don't have to put your money at risk to earn money. Only your time will be required in exchange for this service. Investing the necessary time up front will pay dividends in the long term. So be smart, be careful, and let your creativity run wild. The marketing world is a wonderful place of opportunities - make sure to seize the right ones!
Share this article: