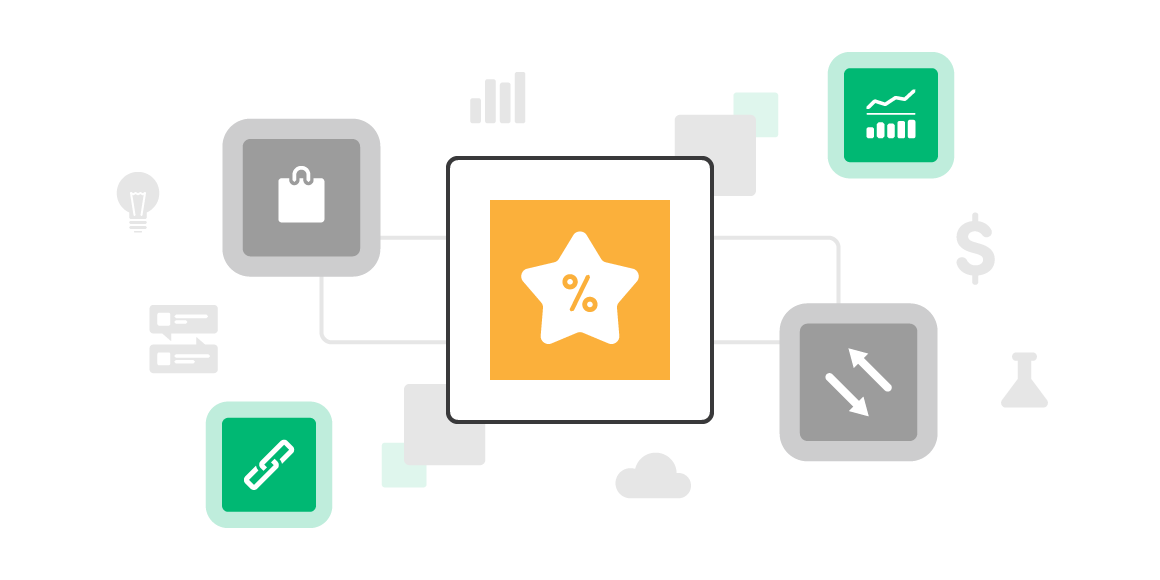 Trackdesk Transforms the Affiliate Marketing Landscape with FREE Affiliate Software Package That Empowers Businesses
Introducing Trackdesk: The FREE affiliate software package that empowers businesses. No charges until you gain traction in the market. Unleash your potential now!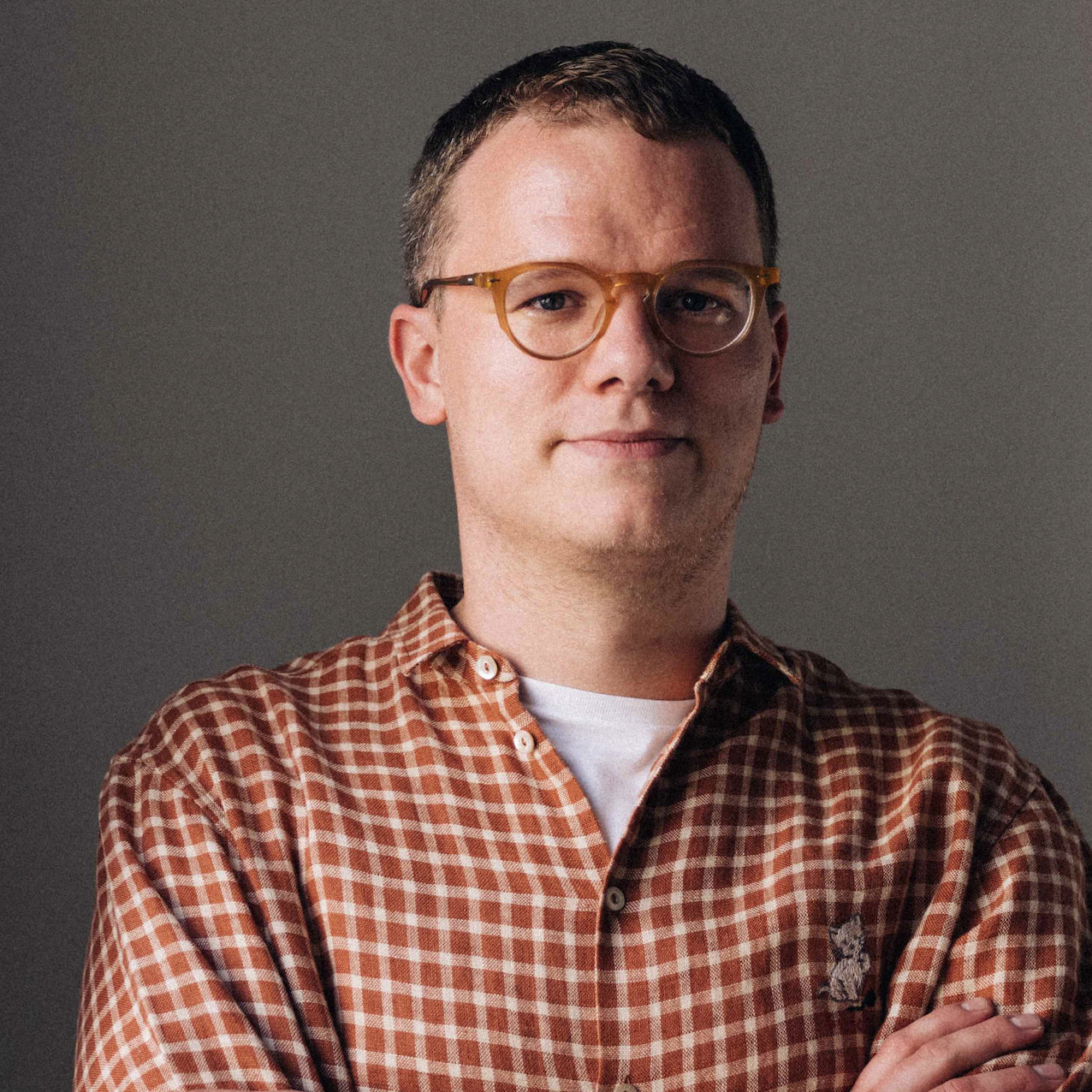 Martin Demiger
8/3/2023
Free trials for affiliate, referral, and partnership marketing software are common. Most companies within the affiliate market sector offer free limited access to their platforms for two weeks to one month, giving users a chance to see if the software is the right solution to their needs. But have you heard of one that's free to use until you start earning decent revenue? Well, we haven't. And that's why we're taking a bold step to offer exactly that—a FREE affiliate software package that businesses can use for absolutely no charges until their business gains traction in the market.
Sounds too good to be true? Frankly, it is. But our mission has always been to provide a full marketing platform that allows businesses to grow and scale to new heights. So, we at trekdesk, embarked on a journey that redefines our vision and commitment to empowering businesses worldwide. By offering free access to our proprietary software, we are revolutionizing the affiliate marketing industry.
With "no profit no costs", our offer is now the best on the market; but to many, it may seem to be an unwise move on the business side. Let me, Martin Demiger, CEO of trackdesk, share our thoughts behind this paradigm-shifting decision and explain why our FREE affiliate software makes perfect sense for us and for businesses of all sizes.
Why FREE Affiliate Software Makes Sense to Us
While our company is fairly new, everyone on our team has had years of experience in affiliate marketing. We know all too well the challenges that businesses face when it comes to starting their affiliate programs. We know that it takes time, effort, and resources to build an effective one.
We've also considered the challenging macroeconomic situation in the post-COVID world. Particularly for E-commerce and SaaS businesses, the affordability and user-friendliness of software solutions have never been more critical.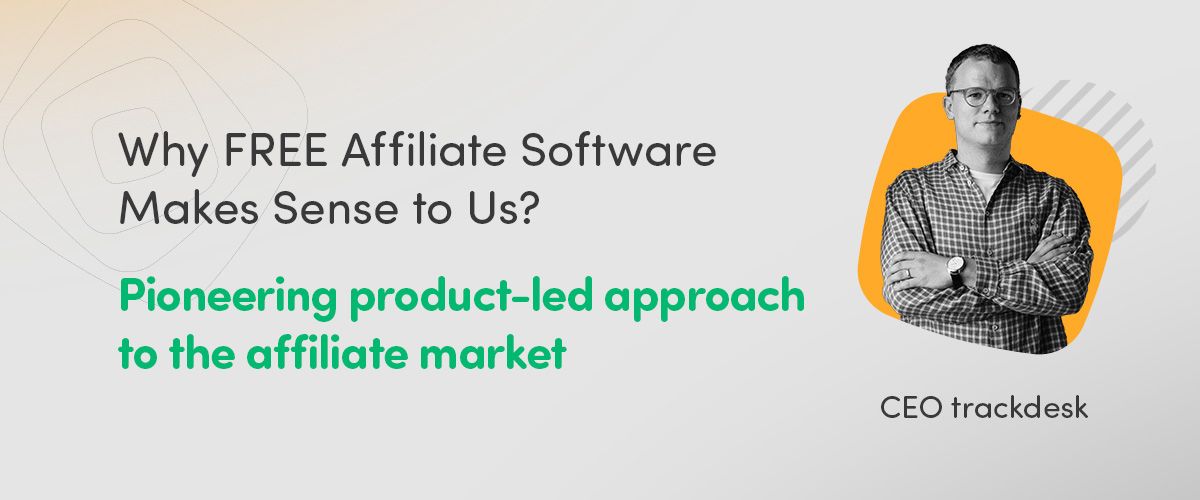 Less time on learning how the platform works, more time on growing your business
Innovation is at the core of trackdesk's approach, and this extends to how we onboard businesses onto our platform. Our user-focused approach aims to redefine the onboarding process. With intuitive, efficient, and seamless onboarding, you reduce the time needed to launch your affiliate program. With the free plan, you do not have to wait for us to process your subscription. Simply sign up and initiate the onboarding process any time you want. You get complete control and freedom to explore our software's capabilities without any constraints.
Effortless affiliate management that accelerates value generation
Trackdesk is designed with usability in mind. Its user-friendly interface makes it easy for users to track affiliate marketing performance, referrals, and partnership programs. A simplified dashboard allows for quick views on performance metrics and the fast generation of insightful reports. Since it is initially offered for free, using the affiliate software accelerates value generation even with budget limitations.
As your business grows and your affiliate programs flourish, there will come a time when you are ready to explore additional features and capabilities. This is where trackdesk's smooth transition to the premium plan comes into play.
When the time comes for you to upgrade to our paid plan, you will discover that our pricing structure is not only competitive but also highly attractive in comparison to the broader market. In fact, we are confident to say that our offer is the best in the market—and we're not exaggerating. We aim to provide a seamless experience that ensures a hassle-free migration to the premium plan so you can continue to scale your affiliate marketing efforts.
Optimizing the use of resources to maximize revenue
Limited resources and huge upfront costs often hinder businesses from exploring new avenues of growth. Allocating significant financial resources to a software solution without assured results may deter those that have just begun their venture. We understand the hurdles that businesses face, particularly during their early stages, and we are determined to break down those barriers by offering an affordable software solution.
At trackdesk, we firmly believe that businesses should only pay for software when it delivers tangible value to them. It simply doesn't make sense to burden our valued users with upfront costs before they see real results. We are so confident that our affiliate software can deliver results that propel business growth. Hence, we consider it our investment in your growth and, consequently, in our growth too.
When you sign up, you can use our affiliate software for free until you reach a monthly revenue of $5,000 from your affiliate campaigns. Then, you can unlock more capabilities to scale your business with our premium plans.
A Huge Opportunity for SaaS & E-commerce Businesses
The success and effectiveness of affiliate marketing are measured and evaluated based on performance metrics. Focused on quantifiable results and tangible outcomes, affiliate performance metrics allow businesses to make better informed and data-driven decisions that optimize growth strategies. However, an Insider Intelligence report reveals that 28% of US marketing executives do not know or do not measure how much of their company revenue is driven by partnerships.
In the State of Partnership Marketing 2022 report, the top challenge marketers faced was measuring partnership program performance and understanding the incremental value that their partners bring to the business. Other top challenges included discovering new partners, scaling partnership programs, and maintaining consistency in partner messaging and operations. With many businesses preferring to use a disparate mix of manual and automated tools, these challenges remain unsolved and hinder growth.
This is where innovative affiliate software like trackdesk comes in. A free affiliate software package opens the pathway to success for many businesses. Tracking numbers is at the core of our business, so we conducted extensive research on the market to see how our offer adds up. According to our data, only 39% of companies listed in a selected category on G2 have affiliate, referral, or partnership programs.
11% of companies listed in the selected category on G2 have an Affiliate program.
5% of companies listed in the selected category on G2 have a Referral program.
31% of companies listed in the selected category on G2 have a Partnership program.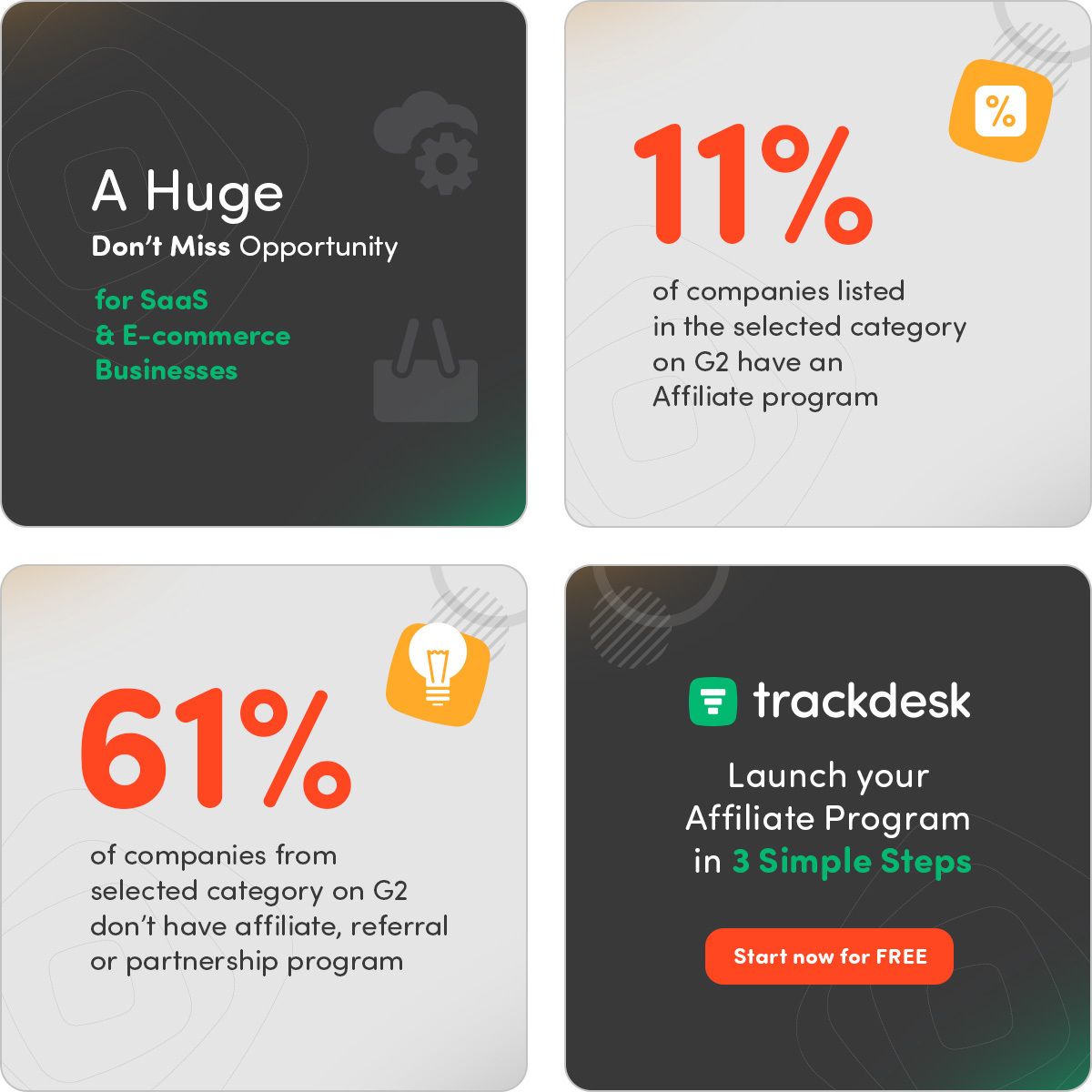 This means that a staggering 61% or almost two-thirds of the companies do not have any such programs in place and are missing huge opportunities for growth. Our full report on this research will be made available soon. The data-backed insights from our study can help you see the enormous potential that leveraging affiliate marketing strategies brings to businesses.
In an industry that sometimes conceals hidden fees and unexpected expenses, trackdesk takes a different approach—one that is anchored in transparency. Our FREE plan comes with no hidden costs or surprises. We believe in a straightforward and honest approach, ensuring that businesses can trust our platform and make informed decisions.
What you see in the FREE plan is exactly what you get—a comprehensive set of features to launch your affiliate program with confidence. All the essential components, from unlimited affiliates to clicks and conversions, are included in the package, along with bulk auto payouts and other valuable functionalities.
Trackdesk Affiliate Software Keeps You Right on Track
With our FREE affiliate software, you get access to a comprehensive suite of features without the need for any initial investment. You can confidently launch your affiliate program and focus on driving revenue without worrying about upfront expenses.
Our FREE plan offers all integrations, unlimited affiliates, clicks, conversions, and many more along with bulk auto payouts via Wise and PayPal. As we've said previously, you stay on the free plan until your monthly revenue reaches $5,000. Once you've reached that milestone, we continue to enable your growth with flexible plans that start as low as $67 per month. That's an unbeatable offer you can't miss.
Take note though that trackdesk is not just about low pricing; it's a top-notch solution packed with all the features our competitors offer—and then some. The difference is our commitment to affordability and accessibility that empowers startups and scaling businesses.Our focus on onboarding and a pioneer product-led approach to the affiliate market sets us apart. Unlike competitors that follow an enterprise sales approach, where you have to be contacted for pricing, our free offer is truly limitless. We empower you to onboard yourself, reducing the time needed to launch your affiliate program significantly. In fact, we proudly claim that you can get your affiliate program up and running in just 3 simple steps that take less than 5 minutes.

Unlock the Power of Affiliate Marketing Today!
Now that you know why our FREE affiliate software makes perfect sense for your business, what's stopping you from taking action? Take advantage of our generous offer and kickstart your affiliate, referral, or partnership program with a $0 initial investment.
Sign up for FREE now and witness how trackdesk's user-friendly interface, comprehensive features, and unbeatable pricing can transform your business. Our step-by-step onboarding process will have your affiliate program up and running in no time, and the potential for exponential growth awaits.
We at trackdesk are delighted to be at the forefront of disrupting the affiliate marketing landscape. Our commitment to empowering businesses like yours drives us every day. Keep an eye out for our upcoming research report that highlights how trackdesk outshines the competition.
Share this article: