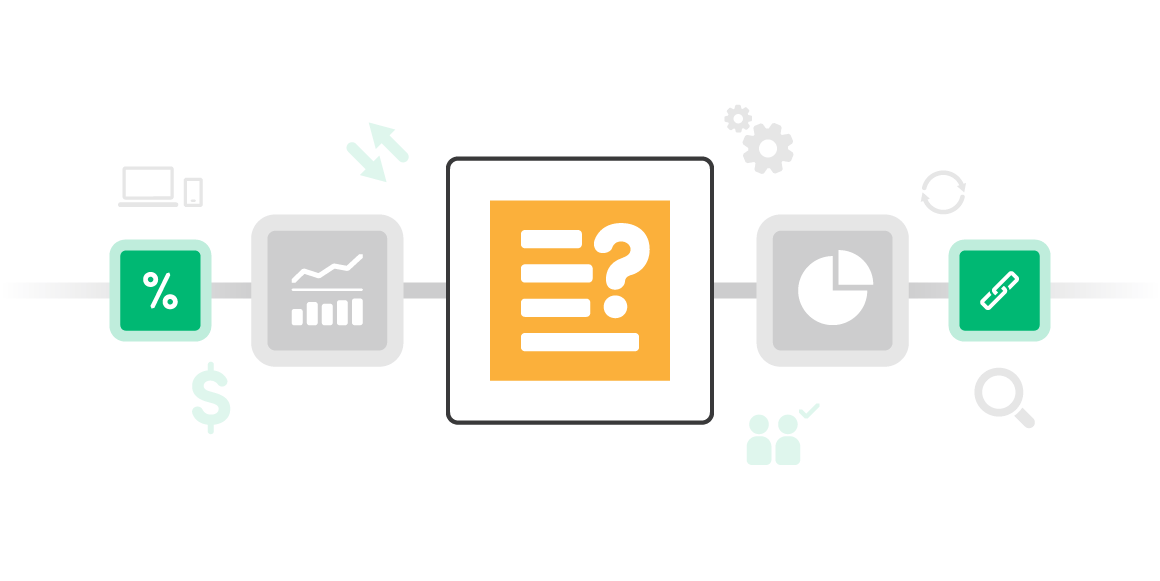 The Definitive Guide to Affiliate Marketing for 2023
In this comprehensive guide to affiliate marketing, we're going to show you exactly how to get started with affiliate marketing and grow your affiliate marketing business.
Trackdesk Team
1/3/2023
Say you're someone who wants to make a living on the internet, but you have nowhere to offer your services or place your products. What's next? Affiliate marketing, of course!
Expected to reach a whopping $12 billion value in 2023, the industry of affiliate marketers has tripled its worth since 2015 - and for a good reason.
Affiliates have taken the marketing world by storm, offering many opportunities for many business masterminds. Affiliate marketing is every brand's go-to tool with no real or minimal investment.
Through a simple get-what-you-pay for approach, affiliate marketing is highly beneficial for businesses that are all about performance. And given that these programs have been adopted by 81% of brands worldwide, picking its brain can do wonders for your brand.
A unison of affiliate marketing tools and aspects, the field requires proper understanding before venturing into the industry. Beginners or experts, it matters not - here's a fully comprehensive guide to affiliate marketing in 2023.
What is Affiliate Marketing?
By definition, affiliate marketing is a marketing tactic that generates revenue and drives traffic to a business through marketing its products and services via another marketer - and with the affiliate earning some percentage in the process.
In layman's terms, it revolves around the idea of purchasing a product someone else recommended.
Take Amazon's Associates Affiliate Program as a superb affiliate marketing example. It is the go-to affiliate program for many beginners in the industry. Likewise, the ClickBank Affiliate Program, Rakuten Advertising Affiliate Program, Etsy Affiliate Program and eBay Partner Network Affiliate Program are some of the trendiest affiliate marketing programs that meet the demands of every aspiring affiliate marketer.
Affiliating a product is simple - all an affiliate should do is search for a product or service of interest and boost its promotion. Subsequently, they will earn a percentage of the revenue from each sale. The sales are tracked through affiliate links that lead from one website to another.
Affiliate marketing can tend to both brands and affiliates, and it saves them quite the penny on unnecessary advertising through run-of-the-mill media. The beauty of this marketing tactic is that the revenue can be shared between the two parties - it is all a matter of agreement.
How Does Affiliate Marketing Work?
Even though some see affiliate marketing as rocket science, it's not. It is merely a marketing strategy that can be easily explained and beneficial to every party involved. Once you know the basics of affiliate promoting, you can carry out the rest smoothly.
Imagine a scenario where your friend owns a company that sells computers, and they do that by promoting their business through a website or a relevant social media page.
And there you are, a handy techy who knows all about fixing bugs, getting rid of viruses, or remedying broken PCs - mainly promoting your business on your social media pages.
Imagine your friend mentioning your brand on their website, calling it "the best solution for computer issues," so potential users can reach you when they need related assistance. What your friend did here was that they created a buzz about your service through their website. They also offered a solution that will benefit you in terms of boosting traffic and revenue; benefit them since they'll earn a piece of that revenue; and benefit the customers, who now have a superb service to use.
On the more detailed side of affiliate marketing are affiliate marketing KPIs (Key Performace Indicators) that include click traffic, top affiliates, number of new affiliates, percentile of new consumers, and the conversion rate. When assessing performance success, the average order value and category-oriented performance are also crucial indicators to consider.
Some affiliate marketing trends should get credit for driving more traffic and generating sales. Virtual shopping, marketing via influencers, video content, voice search, collaborative marketing, and link building - are some of the current trends in an affiliate that have attracted the attention of a wider audience.
Different Parties in Affiliate Marketing
For this type of marketing to work, four parties need to be in the loop - the merchant (advertiser), the publisher (affiliate), the network, and the customer.
The merchant is the advertiser that's offering a piece of the revenue. The affiliate represents the publisher of content that usually operates through popular media outlets and sets the spotlight on a specific product or a service.
As per customers, these are vital links in the affiliate marketing chain - they are the ones competing for the transaction. Lastly, the network is the catalyst between the merchant and the publisher.
Publishers
A publisher is another term for an affiliate, be it an individual or a company. Most commonly, publishers, i.e., affiliates, are bloggers or content creators in a particular branch of an industry that offers a specific product or service.
Publishers create content that revolves around the product or the service in question, which then leads to their better promotion and placement.
Usually, publishers create their content as blogs, social media posts, podcasts, videos, or other types of media outlets.
Affiliates, aka publishers, enhance the promotion of their content to reel in transactions - by publishing ads, implementing trending SEO traffic tools, or compiling an email list.
When a customer completes an affiliate product or service transaction, the publisher gets a commission percentage determined by the affiliate terms of service.
Advertisers [Merchants]
A merchant is the product owner or advertiser offering shared revenue or product placement to other brands or individuals, i.e., affiliates with a substantial following.
Big labels can also be merchants and offer affiliates a piece of the revenue for every purchase made. It's irrelevant how sizeable a merchant is - there are many cases of huge labels providing an affiliate program since they've seen how efficient this marketing tactic truly is.
On the other hand, a one-person company can also be a merchant looking for a shared-revenue business model.
Also, a merchant can be a single person, running a podcast, for example, and spotlighting an affiliate's services or products for a certain percentage of the revenue. Everyone from a well-known brand to a one-person company can be a merchant, so long as they're fit to pay affiliates to boost traffic and revenue.
Networks
Networks, or affiliate networks, are most commonly seen as the binding tissue that connects the publisher to the merchant. More often, networks are not essential for a good affiliate program to work, but some companies prefer to include a network in the model for an enhanced feeling of reliability.
In a nutshell, the role of an affiliate network is to manage the course of action and deliver third-party check-ups and balances. Many companies opt for an affiliate network because of these third-party checks, which tend to reduce fraud risks.
Merchants decide to collaborate with an affiliate network because they simply do not have much free time at their disposal, so tracking, reporting, and managing affiliate payments are nearly impossible to run individually. Plus, working with a network brings about the possibility of collaborating with more affiliates within the network.
Consumers
Anyone who buys a product or pays to use a service is a consumer, i.e., a customer.
In other words, consumers are the cherry on the top of the affiliate cake.
However, consumers add the finishing touch to an affiliate marketing cycle the minute they make a transaction since it's only then that the affiliates can receive a cut of the revenue.
There have been cases of consumers turning into affiliates in the long run, which owes satisfied customers who spread the good word on a product or a service to achieve more traffic and revenue.
Types of Affiliate Marketing
There's a lot to be gained from marketing if and when it's done right. Affiliate marketing trends are the latest hype since they hit all the right spots of the marketer-consumer relationship.
To truly understand affiliate promotion and its perks, there needs to be a clear distinction between the three basic types of affiliate marketing - unattached, related, and involved.
Each of the three types serves a different purpose, and they are considered the most attractive affiliate models for marketing used globally.
Unattached Affiliate Marketing
The term refers to a marketing model that doesn't include a hands-on affiliate, i.e., the affiliate is not directly associated with the promoted product or service.
An excellent way to describe the unattached affiliate marketing model is through traditional pay-per-click (PPC) campaigns. To be honest, it's the auto-pilot of affiliates that comes with a few drawbacks.
The PPC model revolves around "flooding" the internet space with affiliate links using Google Adwords, Facebook ads, etc. It hopes that someone will stumble upon them and click your link, leading to purchase and a commission.
Many affiliates have embraced the PPC model mainly because there's no need for internet presence or authority. Although it takes time to establish a reputation with the targeted audience or collaborators, it can become a way of earning a decent living.
This type of affiliate marketing offers the ultimate internet presence for many.
As for the drawbacks, seasoned entrepreneurs see this business model not as a model, per se, because it only focuses on generating income (which is not a bad thing) rather than on the relationship with the targeted audience - something that big labels pride themselves in.
Related Affiliate Marketing
Unlike the unattached marketing model, related affiliate marketing requires a particular online presence and knowledge of the product or service promoted to your targeted audience.
This affiliate marketing type is the go-to choice for many experienced marketers who know what they're promoting and are confident enough to be somewhat familiar with the product or service. Still, they don't use it themselves.
This type of marketing includes an online presence mainly in a blog, a podcast, a video, or a social media post. It contains affiliate links that lead to the promoted product or service. More experienced affiliates might remember this model as a pay-per-lead (PPL), which does exactly what it says - pays affiliates for every lead they generate. The PPL model can include online form submissions, trial creation, or pre-purchase.
Result-wise, the related affiliate marketing model is a proper marketing tool to rely on since it's specifically aimed at an audience who's shown interest in what's promoted.
Involved Affiliate Marketing
For many affiliates doing business today, this particular marketing type is a favorite - and for a good reason. Those who mean business use this marketing model to promote a product or service in the best possible way.
Also known as a PPS - pay-per-sale, affiliates get paid for every sale they help make by utilizing this marketing type.
The involved affiliate marketing is the pinnacle of showcasing a product or a service. It usually means the person or company that does the promotion has tried the product/service themselves and can attest to it. This then gives them more credibility in the eyes of the targeted audience.
However, if an affiliate chooses to go with the involved affiliate marketing model, they need to portray themselves with a dose of responsibility. If the audience becomes convinced that the promoter knows what they're offering, a trusting relationship will likely evolve.
Side by side with PPC, the involved affiliate model, or PPS, is the opposite of the unattached model. Here, the affiliate is speaking directly to the audience and vouches for the product or service that is being promoted.
Common Types of Affiliate Marketing Channels for 2023
Thanks to today's tech-driven business climate, affiliate marketing has become the number-one trending marketing model worldwide.
Whether to promote a product or offer a service, affiliates are now establishing their presence through multiple marketing channels, and they're doing a fine job so far.
From blogging and referral lists to social media outlets and videos, the possibilities for running a successful affiliate program are genuinely endless.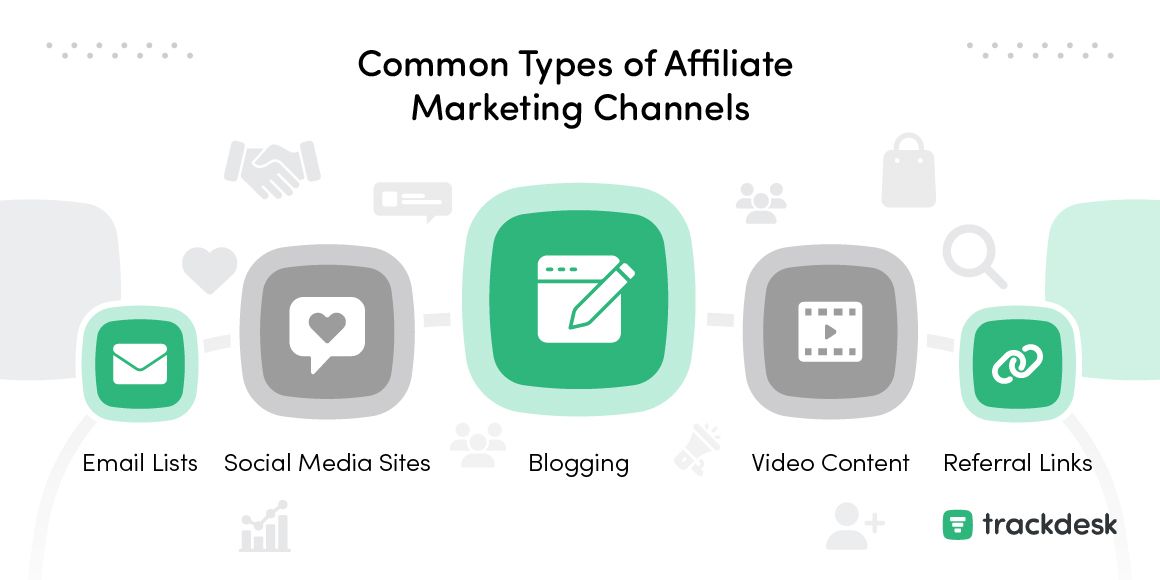 Blogging
The most commonly used way of promoting or placing content about a specific product or a service is blogging.
This type of affiliate marketing is probably the most popular way of introducing a specific product or a service to a broader audience. For example, say you're a blogger, or an affiliate, promoting a hair care product you've tried. You incorporate a unique link in your blog, determining you as the traffic source. So, you earn a commission whenever someone clicks the link to make a purchase.
Referral Links
Referral links, otherwise known as affiliate links, are URLs that enable a company or an individual to promote their products and services. Referral links include the affiliate ID that tracks the way visitors land at a particular website.
The affiliate ID is generated when a visitor transforms into a consumer, i.e., a customer. This can happen either by buying the product or by submitting a form. It is only then that the affiliate can earn a commission.
Video Content
Video creation is yet another popular way of setting up promotional content on the internet. With the number of social media platforms, video sharing is easier than ever, and it's pretty appealing to a broader audience.
Affiliates use videos as their marketing channels since it's more convenient to look at a video than read a foot-long text that serves the same purpose - to promote a product or a service. The video content is catchy and easy to follow, so nearly 50% of potential customers watch a related video before purchasing.
Video content reaches a broader audience and converts more leads than traditional marketing methods.
Social Media Sites
Instagram, Facebook, Twitter, and Pinterest are all social media platforms regarded as the Mecca of affiliate marketing. Nowadays, you can't scroll through your newsfeed on any of these platforms without stumbling upon a video promoting a particular product or service.
There's no doubt that social media platforms make fertile ground for driving traffic and converting leads. Heat to head with old-school marketing, social media marketing is lightning years ahead.
Reaching a massive audience is a breeze if you know how to navigate social media platforms to your advantage. Staying engaged with your audience, responding to shares, likes, and comments, maintaining your content up to date, and keeping things relevant are all tools of mass management of social media to your business advantage.
Email Lists
Simple as it sounds, email lists are not that easy to assemble. On the other hand, they are beyond helpful affiliate marketing tools and provide direct access to your audience through their email inbox.
Affiliate marketing through email lists works well for maintaining a continuous engagement with your audience. It serves well for building trust, and it's also convenient since everyone has an email to engage with. Finally, a newsletter is a more personal business approach than social media platforms.
The first thing to do here is to start building your email list by signing up with an email marketing provider, essentially a software solution. These software tools are excellent for sending emails to your list. Now, you can spruce up the look of your email to make it eye-catching for your email list.
How Do Affiliate Marketers Get Paid?
As an affiliate marketer, you earn a commission every time you promote a product or a service with a sale. A successful affiliate marketer can end up with a fat bank check if they know how to deliver effective and engaging content that will result in a designated purchase.
Affiliate marketing is a superb way to ensure passive income - mainly by knowing what you have to work with and how you can promote your content the best.
The younger generations opt for becoming affiliates mainly because of work flexibility.
According to research done on this trending marketing method, it has been estimated that in 2023 alone, affiliate marketing expenditure in the USA may well reach a whopping sum of $8.2 billion.
There are a few ways an affiliate marketer can make income:
By PPC (pay-per-click), which is redirecting the consumers from your blog or social media post to the seller's website where the product is initially listed;
By PPS (pay-per-sale), a method that enables you to get a percentage of the products' sale value, an income you'll only get if a transaction is made;
PPL (pay-per-lead) lets you get paid for every lead generated that converts into a purchase, whether about subscribing to a newsletter, downloading a guide, opting for a free trial on a product, etc.
Having powerful affiliate tracking software is a definite must to get the most out of your affiliate endeavor. Affiliate tracking is a method of controlling and tracking marketing activities, mainly via special software and different plugins installed on affiliate websites. The conversion rates, sales, and clicks from affiliate websites track affiliates' performance.
Now that the ways of making an income through affiliate marketing have been covered, the most important question arises: How much money can an affiliate marketer make?
Well, to put it plainly- as much as you wish.
An affiliate marketer can earn as much money as the effort they put in the process.
In other words, the amount of earnings depends on the marketing model, whether it's PPC, PPS, or PPL, and the type of affiliate marketing used. Also, the niche that an affiliate marketer has chosen will play a significant role in the outcome - and income.
If you are serious about affiliate, your passive income can vary from a few hundred dollars to the thousands - each month.
Also, the proceeds from your affiliate marketing programs will depend on how many programs are there in your niche, how big your following is, and how many subscribers you have amassed. Maybe the most crucial part of whether you'll earn a lot of money or not depends on the quality of your content and your reach.
Number-wise, there's been research on the average amount of money an affiliate marketer can make in a year, and it turns out that, in the US, that number can range from as low as $42,000 to $83,000 a year.
Why Be an Affiliate Marketer?
Many young people are already familiar with the concept and benefits of affiliate marketing. Everywhere you look, in Instagram news feeds email inboxes, websites, etc.
With so many marketing fruitful models, why should someone choose to be an affiliate?
The work is flexible: An affiliate marketer can work from everywhere and anywhere, as long as they have a smart device and an internet connection.
You can earn commissions while having your mid-afternoon latte at Starbucks or check the outcome of your affiliate work well past midnight - and from the comfort of your bed. As long as your affiliate links work, you'll keep on earning commissions regardless of where you are.
It's basically investment-free: Unlike traditional marketing models that require a certain amount of funds to keep the ball rolling, affiliate marketing is a low-cost endeavor that will cost you practically nothing. All you're required to do to succeed is develop original content revolving around the product you want to promote. Don't hold back on investing your time and effort, and do your best to attract an audience that'll be interested in buying what you have to sell.
It's a source of passive income: This is probably the most appealing reason to become an affiliate marketer, especially for younger game-changers. What separates affiliate marketing from the traditional way of earning money is that, unlike a 9-5 job, you can fatten your bank account while you sleep. Whenever someone uses your affiliate link to make a purchase, you'll earn money - that simple.
The more you work, the more you have: Compared to a traditional salary that requires 40 working hours a week, an 8-hour workday means nothing to an affiliate marketer. You can work for only a few hours a day and still make a nice sum without sacrificing anything other than a portion of your time. Many people choose to become affiliate marketers because they can be their bosses - how much they will depend only on their efforts. The better they perform, the bigger their money balance will be.
Risks Associated with Affiliate Marketing
As with any other business, there are certain risks linked to affiliate marketing.
Many people overlook some of the perils that may hinder a successful affiliate program because they're minuscule compared to the pros.
However, in all fairness, the risks that may occur while affiliate marketing is not something not to be taken lightly, so let's break down the most common dangers of doing it the wrong way.
Fraud is a Real Thing
This is probably one of those aspects that dims the lights on the general popularity of the marketing tool. A vast majority of affiliate marketing enthusiasts give up on pursuing this marketing tactic because there are fraudsters that will simply re-route your commissions and leave you empty-handed.
Hijacking affiliate links is a pesky issue as well. Although it rarely happens these days, the damage it can cause to an affiliate marketer will ruin the reputation of the whole marketing method and deter future affiliates from joining. Eyes open, fellows.
It's Not Everyone's Cup of Tea
To put it bluntly - affiliate marketing is simply not for everyone. Most people will lose themselves in the pool of freelance and give up on any prospects because of the lack of knack for the job. Aside from not being able to work freelance, some are simply uncomfortable working from home and prefer a traditional working space.
Luckily, there are a lot of cafes nowadays that offer perfect conditions for affiliate enthusiasts to work their magic remotely. Plus, with the freelance market growing by the day, the need for coworking spaces has expanded even further. Coworking spaces offer renting options for individuals who look to rent out a desk space within an office.
Minding the Legitimacy
As with the cases of affiliate link hijacking, the legitimacy of affiliates also poses an issue in many affiliate marketing campaigns. Many affiliates don't put enough effort and creativity into what they share with the audience, often rendering content that resembles spam.
To avoid being perceived as a spammer, an affiliate marketer should always try to place original and legit content. Otherwise, delivering misleading material will backfire and place an invisible red flag on any future endeavors of the affiliate.
No Financial Promise
One of the most talked-about risks in affiliate marketing is the no-guarantee on revenue. It's the number 1 repellent for individuals who look to make a quick buck, which is not what affiliate promoting is all about.
PPP, or pay-per-performance, is not something many are good at, which often leads to many misshaped affiliate campaigns that look like spam. Affiliate is a marketing tactic that works best in the long run, and there are no promises that someone will get filthy rich overnight. If you're testing the waters of affiliate marketing to kill time and earn some fast cash, you might want to reconsider your career path.
Consumer Base Might Be Out of Reach
Whether an affiliate marketer will succeed in garnering a substantial consumer base will depend on several factors. Such include content quality and niche choice, among a few others. Reaching a specific audience is the first step toward building a consumer base, and it's a process that takes time and effort to complete.
Many enthusiastic affiliate marketers expect to attract quite the consumer base within the first 2 to 3 tries, but the reality is different. Affiliate marketing works in ways that generate leads for the vendor, so once a referral is made, it might take a while for the same consumer to come back for more. So, keeping up with the trends and strategies in affiliate marketing can help build a more extensive consumer base that sticks.
Competition Can't Be Controlled
Whether you'll be faced with the fierce competition or not will mostly depend on the industry you're tackling. Due to the many perks of affiliate marketing, more and more people are trying their luck by placing all kinds of content, products, services, etc. Subsequently, that will lead to increased competition which you won't be able to control.
However, controlling your competition should not scare you away from becoming a successful affiliate, as long as what you do is rich in quality and creativity.
How To Create Content for Affiliate Marketing: Affiliate Content Marketing Ideas
Everything you think of doing to get your affiliate marketing journey started should begin with research. Explore different niches, browse through the social media platforms and see what's creating a buzz - whether a product or a service.
However, having a helpful affiliate marketing tool at hand is always a good idea. Flippa, WPEngine, Google AdSense, Sumo, Hemingway, and YoastSEO are only a few of the many neat tools you can use to your advantage.
Next, creating content for affiliate marketing can't go without thinking outside of the box - but staying relevant simultaneously. Many people are at a loss for words and ideas and simply don't know how to put their skills to the test. A few affiliate content marketing ideas for affiliates, like product comparisons, product reviews, how-to posts, informational videos, or seasonal content, can help jump-start your creative juices and keep you going.
Once you've made up your mind about what you might be good at, you can consider a few other things.
Choose a Platform To Create Your Content
Finding a fitting marketing platform is the driving force behind a successful promotion. Whether it's a website, a blog, a YouTube channel, or a social media site - either will work as long as you know your niche and audience.
Setting up a YouTube channel or Instagram account can be done quickly without any investment. If you're keener on blogging, you might need some funds to get you started. A blog requires a domain, and domains cost money. Besides, web hosting and site builders are also required.
Pick The Products or Services You Wish To Promote
If you have found the most fitting marketing platform for your content, the next step is to select the products or services you want to promote on the platform. Do proper research on what's trending, and use that info to engage a broader audience that would like to hear what you have to say.
There are two ways to go about it when selecting the right option to promote. One, you can choose to connect directly to the seller. Two, you can become part of an affiliate program. Choosing an affiliate program might be the better of two options if you're a beginner since you'll get support from fellow affiliates and connect to sellers.
Choose a Strategy
Handpicking the right marketing strategy can mean the world to your affiliate journey, so make sure to make an informed decision. Research and choose the suitable affiliates for your content, garner attention with sales, coupons, or promotions, and build a substantial affiliate network.
Once you've determined these key points, you should start your hands-on journey to affiliate marketing. Before creating your content, there are a few things to consider, all crucial if you want to become successful and earn a few (hundred) bucks.
Be Genuine
No one wants to waste their time on mediocre content. The internet is flooded with half-good reviews, promotions, and tutorials.
For example, say you're good at makeup, and your content revolves around the tips and tricks on flawless makeup. The affiliate link you've included in your content promotes a waterproof eyeliner, and the audience becomes accustomed to you promoting related products. Incorporating affiliate links that promote a laundry detergent, for example, might ruin your authenticity and drive the audience away from your content.
Your Audience is King
Whatever you choose to do, always keep your audience in mind. Is the content you're creating good enough for your audience? Will your audience find your content valuable?
Never start anything without thinking of your audience first. At the end of the day, whether you get paid or not depends on how well you've kept your audience's attention.
Assume your target audience is the younger generation aged 18-26. So, younger generations are more visual, and anything less than a visually appealing piece of content won't fly.
Start Storytelling
People like to feel personally connected, and most readers want to feel a connection between them and whatever it is they're reading.
Always make sure that whatever content you create, people can relate to it - don't just post a blunt list of the best five products for skincare. Instead, try to tell a story of how you became interested in the best products for your skin. Share your experience and make your audience relate to your story; it will build a long-lasting relationship of trust.
Stay Relevant
Although sticking to a specific niche is essential to building a trustworthy relationship between you and your audience, it doesn't mean that you should only follow one particular writing style.
On the contrary - you should keep in mind to mix things up and offer a different perspective to your content without sacrificing your trademark. Try different content patterns and interact with your audience via a Q&A segment or a comparison post.
All different ways of creating content deliver fantastic affiliate marketing opportunities that might draw more audiences to elevate your conversion rates.
Schedule Your Content
Content schedules indicate that you're confident about how you manage your work. When you schedule content, you create a character for your pieces, keep your audience coming back for more of what you have to offer, and drive affiliate marketing success.
For example, your audience will remember that you publish new content on Fridays and that Wednesdays are for Q&A. So, they'll keep in mind to check in with you as scheduled.
There have been periodic posts turning audiences away - they might read one of your posts, but they won't be coming back for the next, and you don't want that as an affiliate marketer.
Scheduling your content can help you as an affiliate marketer if you pair it with evergreen and seasonal content. You can sync your posts with some of the more significant seasonal events like Halloween and post a piece on the best pumpkin pies you can bake at home while including affiliate links to promote some baking supplies.
Remember SEO
All of the above means nothing if you don't throw some decent SEO.
As much as your content needs to be appealing to the reader, it also has to speak volumes to Google. Incorporating SEO means you're doing the best for your content, so it ranks higher in the search engine results, which kicks your affiliate marketing up a notch.
Implementing a good SEO will work for you in the long run, and if done right, it'll drive more organic traffic to your affiliate links and keep earning you more with each click.
Create air-tight content, track your success, know your products, engage visitors, and concentrate on the right niche and keywords to achieve affiliate marketing success.
Which Affiliate Marketing Niches Work?
While preparing your affiliate marketing strategy, choosing the most suitable and profitable niche is paramount. If you want to start affiliate marketing, choosing the right niche is the best thing you can do. Some superb examples include Amazon's program, eBay, Etsy, etc.
If you've done your research right, you'll see an array of niches that have gathered the attention of massive audiences globally. The lifestyle and wellness niche, the technology niche, the personal finance niche, and the pet niche are some of the most trending niches today.
Due to the pandemic, some niches have taken a higher stand than before, including healthcare, fitness, and gaming.
In 2021, some of the most popular niches turned out to be men's beauty products, political literature, disinfectant products, and eco-friendly gadgets. It's no surprise that affiliates that used these keywords for their content experienced the most success.
Now back to 2023, the most popular niches have changed, leaving more room for lifestyle and mental health affiliate marketing to reign with an estimated $4 billion in revenue by 2023.
In a nutshell, niches that deal with mental health, wellbeing, fashion, pets, home security, streaming services, and gaming are the most profitable affiliate marketing niches to consider.
Affiliate Marketing FAQs
What are The Myths Surrounding Affiliate Marketing?
The number 1 myth revolving around affiliate marketing is that you can make money fast. Plain and simple - you can not. Another widespread myth is that you need to be a skilled techy to be an affiliate marketer. That's not true - you don't need technical skills to be a good affiliate - you can start with a social media page and work your way up.
How Easy is Affiliate Marketing?
Since no investment is required, affiliate marketing is considered easy for many. All you need is your time and effort to build a successful strategy and start earning. However, don't misconstrue it to make quick cash because that's not how the industry works. Although it's not a hard marketing tactic to grasp, it still requires dedication to get things running - and keep them running.
Can Affiliate Marketing Be Turned Into a Career?
The Short Answer Is - Yes!
Affiliate marketing can become a career for those who engage themselves entirely and invest their time, effort, and talent into this particular marketing method.
You shouldn't expect to make a lot of money at first, but if you stay dedicated and offer quality, you can see yourself making thousands of dollars.
I Don't Have a Website. Can I Still Be an Affiliate?
Of course. You don't have to have a website to be an affiliate since you can use a social media page or a YouTube channel and include the affiliate links in the description. It is precisely what many social media influencers do to promote a particular product or a service, and it works pretty well.
Is Affiliate Marketing Worth it?
If you are dedicated and committed to making it as an affiliate marketer, it's worth it. Many give up on the way because they think they can make money fast, which is the wrong approach to this marketing tactic. If you put in enough time, effort, and will, it will prove itself worthy, and you can experience its benefits in the long run.
Is Affiliate Marketing Legit?
Unlike many skeptics' opinions, affiliate marketing is legitimate when done right. However, it's entirely up to you to choose whether you'll promote genuinely quality products or services or go the shadier, nor recommended round. Many decide not to do their research and collaborate with less than trustworthy companies or individuals, resulting in disappointment, scamming, and overall image deterioration.
Share this article: